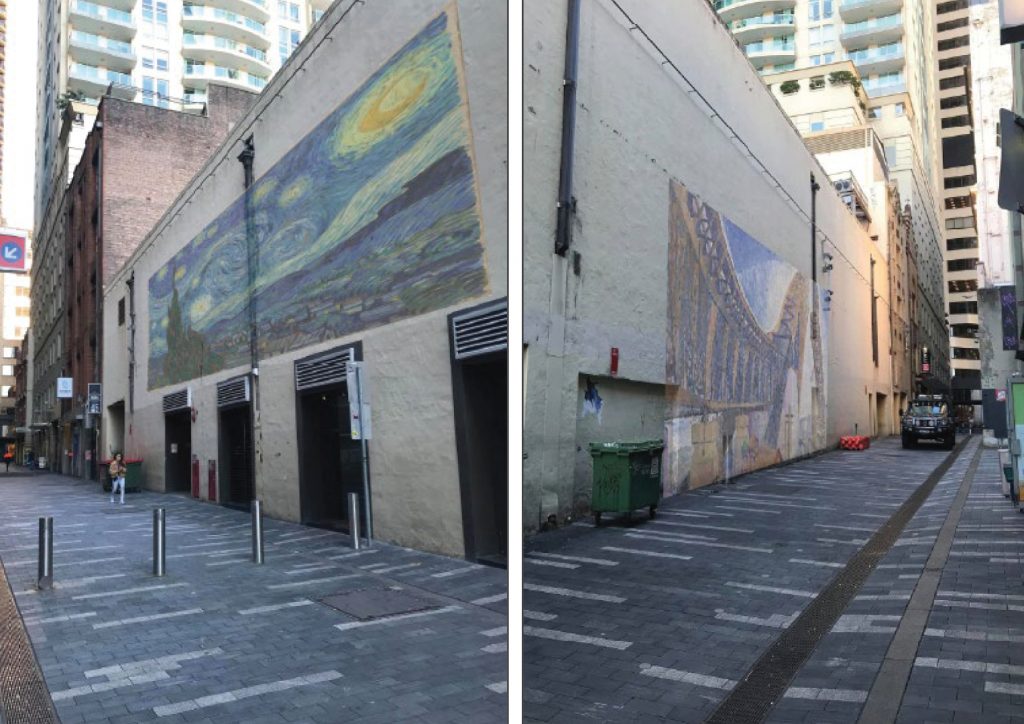 View Full screen
Project Art
Douglas Bennett
Illuminating Sydney's Laneways Through Projected Artworks
My proposal focuses on the many back alleys and laneways throughout the Sydney CBD. Poor lighting and insufficient surveillance in these spaces, can make them uninviting and heighten public domain user's sense of fear and discomfort. A simple way to activate and illuminate these spaces at night is through projector art. Projectors can be installed quite cheaply in these spaces and can display a range of artworks on the myriad of blank walls in these spaces. Artworks from local artists or galleries can be displayed in these spaces, as well as interactive displays (such as shadow casting). Projected artwork can also tie in with Sydney's Vivid lightshow event. This simple idea has the potential to re-enforce the concept that these spaces are cared for and belong to the community. This in turn can enhance user's sense of safety and deter criminal activity. The proposal has been envisioned in two laneways in the CBD – being Wilmot Street (left image) and
Central Street (right image).
My project will enhance existing thoroughfares and alleyways after hours and make them safer spaces for pedestrians to traverse through.
My project invigorates existing public spaces in Sydney that are often avoided and associated with criminal activity. Using projector art, the identity of these spaces can be transformed into pleasant and enjoyable public thoroughfares.
This idea has the potential to transform 'undesirable' public spaces into interactive artistic havens and make Sydney a safer and more engaging city for all.