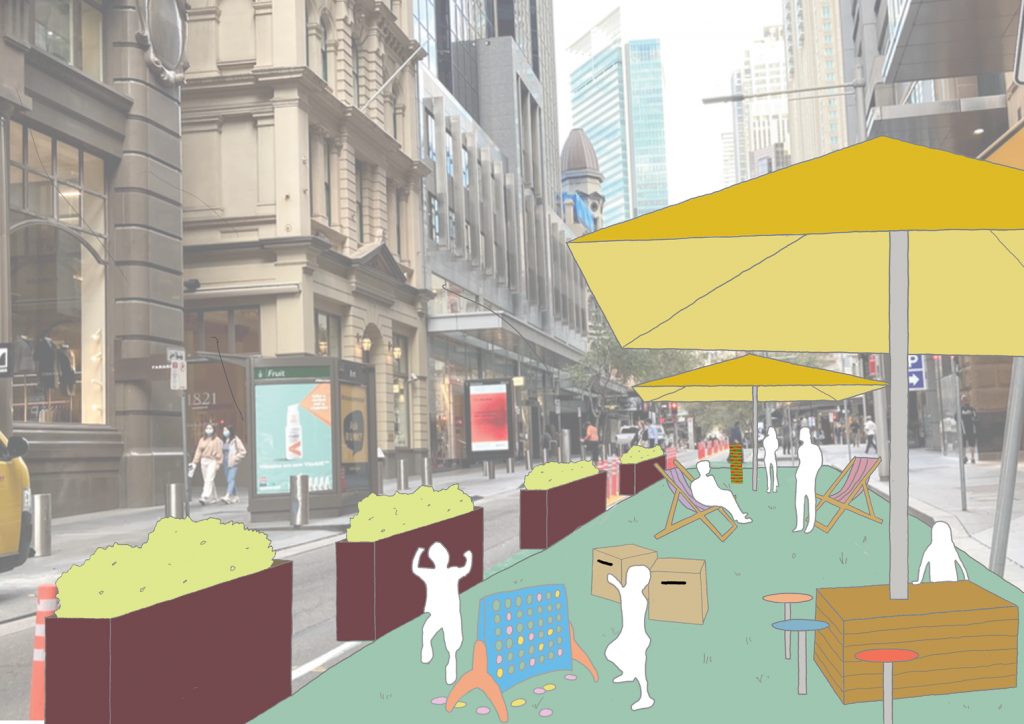 View Full screen
Pop-Up Open and Public Spaces
Gilead Chen, Adrian Bonanni
Street as Great Spaces
Streets are often seen as transportation networks to connect people to their destinations. However, have we contemplates street as great places or exploring the ideas of utilising street as an extension of the existing open and public spaces?
The under supply of open and public spaces is a common issue in Sydney. Many of the existing suburbs are built up and cannot provide additional permanent open and public space. The idea is to reclaim underutilised streets and on-street parking spaces for pop-up open and public spaces over the weekend and public/school holidays. The idea would provide temporary relief to the shortfall of open and public spaces while transforms underused streets into vibrant places.
The idea enables open and public spaces more accessible to the community; provide a space and opportunity for different ages and groups to interact which creates a sense of social cohesion and identity; enhancing the safety and security of the street by facilitating active uses throughout the day and night; and reduce overcrowding at existing parks and playgrounds.
The idea is temporary, with no permanent fixtures or equipment required. Hence, the pop-up space could be easily manoeuvred within the community and other parts of the local government area. Additionally, it can accommodate a range of purposes and uses to cater to the community's different needs and requirements, such as kids playgrounds, open spaces or senior exercise parks.