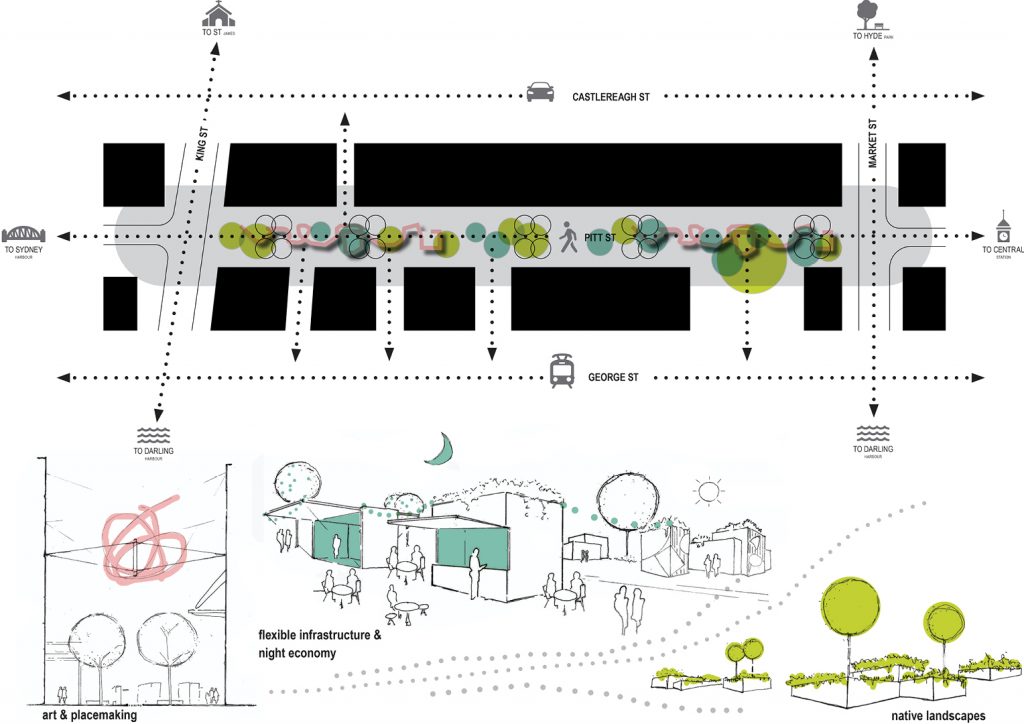 View Full screen
Pitt St Mall Precinct
Kel Foster, Amy Copley, Diego Eguiguren, Kristi Grose, Zachary Karantonis, Alfredo Medina, Stacey Nichols, Kylie Soltani & Chris Zerial
Public thoroughfare becomes public space
Currently used by a multicultural multi-origin community – from CBD workers and Sydneysiders to domestic and international visitors – Pitt Street Mall is the busiest pedestrian thoroughfare within Sydney with strong, established connections to the surrounding network. Our public space concept is designed to leverage the volume of this otherwise transient community, to create a dwelling space that inspires, educates, entertains and connects visitors within our globally iconic city.
The transformation of Pitt Street Mall will celebrate our unique Australian identity by recognising the indigenous significance of the site while paying homage to the traditional owners of the land. Featuring native species relevant to the context, the mall will become an urban green space with a mobile planting infrastructure to allow for seasonal refreshes and events such as an Aussie Christmas – designed to encourage repeat visits.
Cleverly designed and flexible infrastructure will transform the space from commuter thoroughfare by day, to alfresco dining and entertainment by night. With regularly programmed events co-ordinated with the Sydney calendar, local businesses will be given an opportunity to activate, driving a bustling night-time economy.
Finally, art-based place-making will bring the concept together, completing the transformation to public space. Drawing attention upwards to the beautiful heritage buildings that flank Pitt Street, an art overlay that utilises the existing high-level infrastructure will showcase a rotation of local artists.
This concept combines culture, entertainment and nature to deliver a multifunctional and meaningful 'must experience' destination, that visitors will be captivated by and Sydneysiders can be proud of.