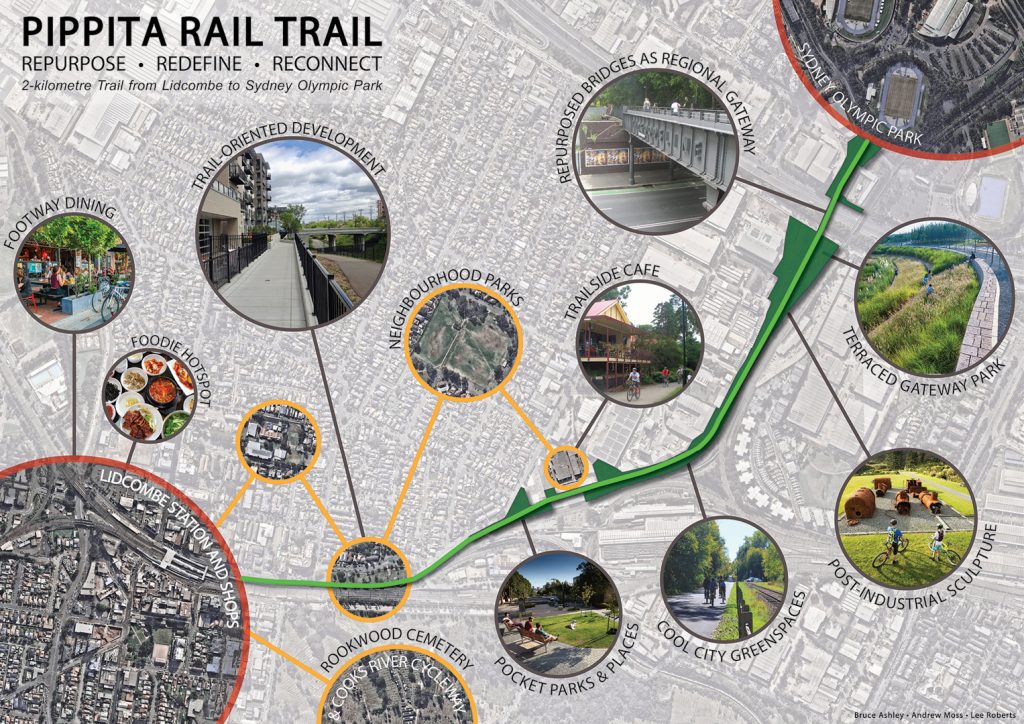 View Full screen
Pippita Rail Trail
Lee Roberts, Bruce Ashley & Andrew Moss
Transforming a forgotten rail corridor into a leafy pathway to link Lidcombe and Sydney Olympic Park
A BETTER LIFE FOR SYDNEYSIDERS
The Pippita Rail Trail will be a linear park that opens up new access to transportation and recreation opportunities. This trail is a readily available solution to the green space needs of a rapidly growing urban area that currently lacks accessible public spaces. It provides safe walking and cycling routes for sustainable transport and exercise. The trail further provides locals and visitors a 360⁰ strategic gateway to active and social amenities within the wider Sydney Green Grid regional network, including Cooks River, Prospect Pipeline, Duck River, Olympic Park and Parramatta River.
A GREAT PUBLIC SPACE
This 're-naturalised' connection between old and new urban centres makes possible a variety of public spaces:
A new spine for active transportation that increases connectivity between the local and regional destinations of Lidcombe and the Greater Parramatta and Olympic Peninsula growth precinct
A verdant route that cools the city and manages stormwater
A network of integrated pocket parks and trailside amenities that celebrate the local industrial history and contribute to vibrant community life and strong local economy
A TRANSFORMATIONAL IDEA
The Pippita Rail Trail repurposes and 'upcycles' disused public land and rail bridges along the former Homebush abattoir line (opened in 1911 and decommissioned in 1991). The reborn trail will be a novel open space that generates valuable social interaction, cohesion and pride. It will be an exciting new destination, a tangible link to authentic local history, and a new network for community revitalisation.