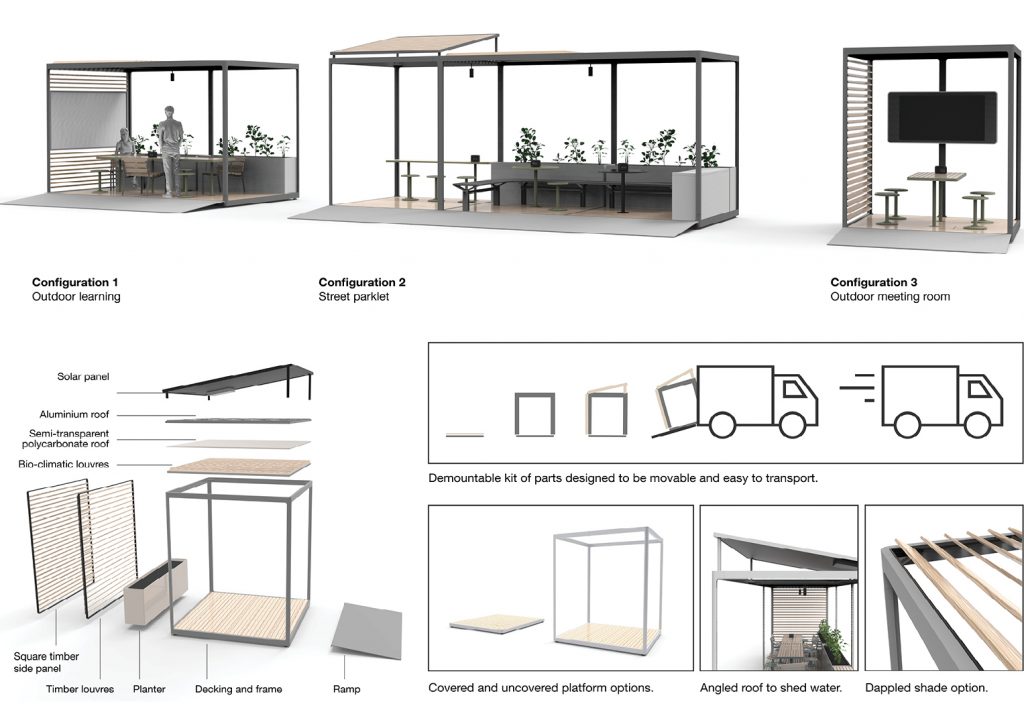 View Full screen
Outdoor Room Concept
Street Furniture Australia
Turn a space into a place with a kit of parts.
Cities are not always designed for comfort. Sydneysiders are often looking for places to charge phones, access WiFi or wait to meet someone in a sheltered spot without paying for coffee.
Lack of free local public spaces has come into focus with COVID-19: city dwellers are now looking to get outdoors to exercise, access essential services and as a home office alternative. NSW DPIE found in a recent survey that 55 percent of people spent more time in public space than they did before COVID-19 restrictions. Local businesses are also spilling out into streets, plazas and parks to continue to operate.
However most public spaces have a limited range of amenity – they are typically places to sit, relax and enjoy nature. In a post-COVID-19 world they can work harder to support the local community in daily life.
Street Furniture Australia has designed a modular system to deliver comfortable, durable, flexible, sheltered Outdoor Rooms for visitors to meet, relax, dine, work and play, while charging devices and connecting to WiFi.
These innovative structures are designed to be movable to allow Councils and custodians flexibility – pick up the room and shift it to the next site on the back of a truck. There is nothing like this currently on the market in Sydney.
Inside the Rooms, fixed and movable furniture will allow for flexible social distancing. Louvred walls create ventilated boundaries. Antimicrobial properties can be added to surfaces. Simply BYO masks and hand sanitiser.