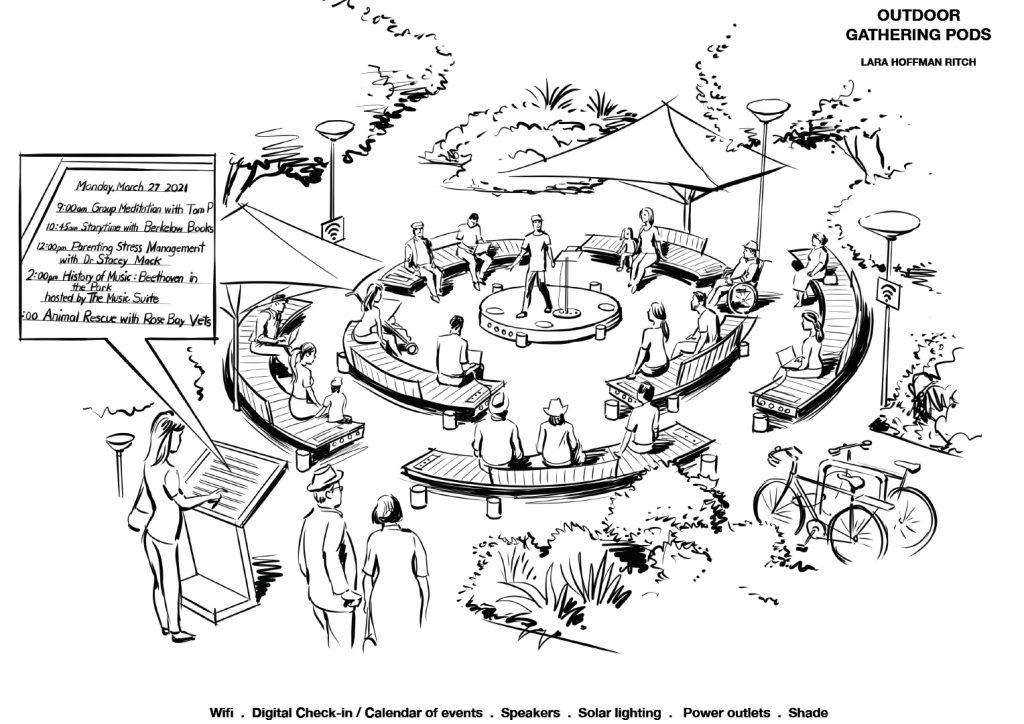 View Full screen
OUTDOOR GATHERING PODS
Lara Hoffman Ritch
Creating a unique opportunity to connect, learn and be inspired in a safe outdoor setting.
Since COVID, in-person learning, besides formal school programming, has either been put on hold or moved online, emphasizing the need for more flexible and local learning environments. There are many groups of Sydney-siders who would thrive being part of a gathering where they felt inspired and connected. From retirees to parents, those transitioning their careers to those who need more connection in their lives. The gathering pods provide a local destination in a casual outdoor environment to learn and meet like-minded members of their community.
The idea is to create outdoor gathering pods within chosen park locations of which many sit empty throughout the day and are walking distance from residential communities. By installing an easy to replicate cluster of benches and central stage with lighting, WIFI, charge stations and speaker systems, an immediate classroom context is created in a spread-out outdoor setting.
Online booking allows a multitude of bodies to promote classes e.g. local councils, educational bodies like universities and TAFE and local businesses looking to engage the community through learning and activities. When the space isn't booked out, the general public can use it for extra seating and engage in activities like study groups or parent groups.
In these uncertain times, the only thing we can do is control our mindset. Having these gathering pods easily accessible for cross-generational Sydney-siders gives everyone the opportunity to be inspired and transform their state of mind while promoting local businesses and creating community connections in a peaceful and uplifting setting.