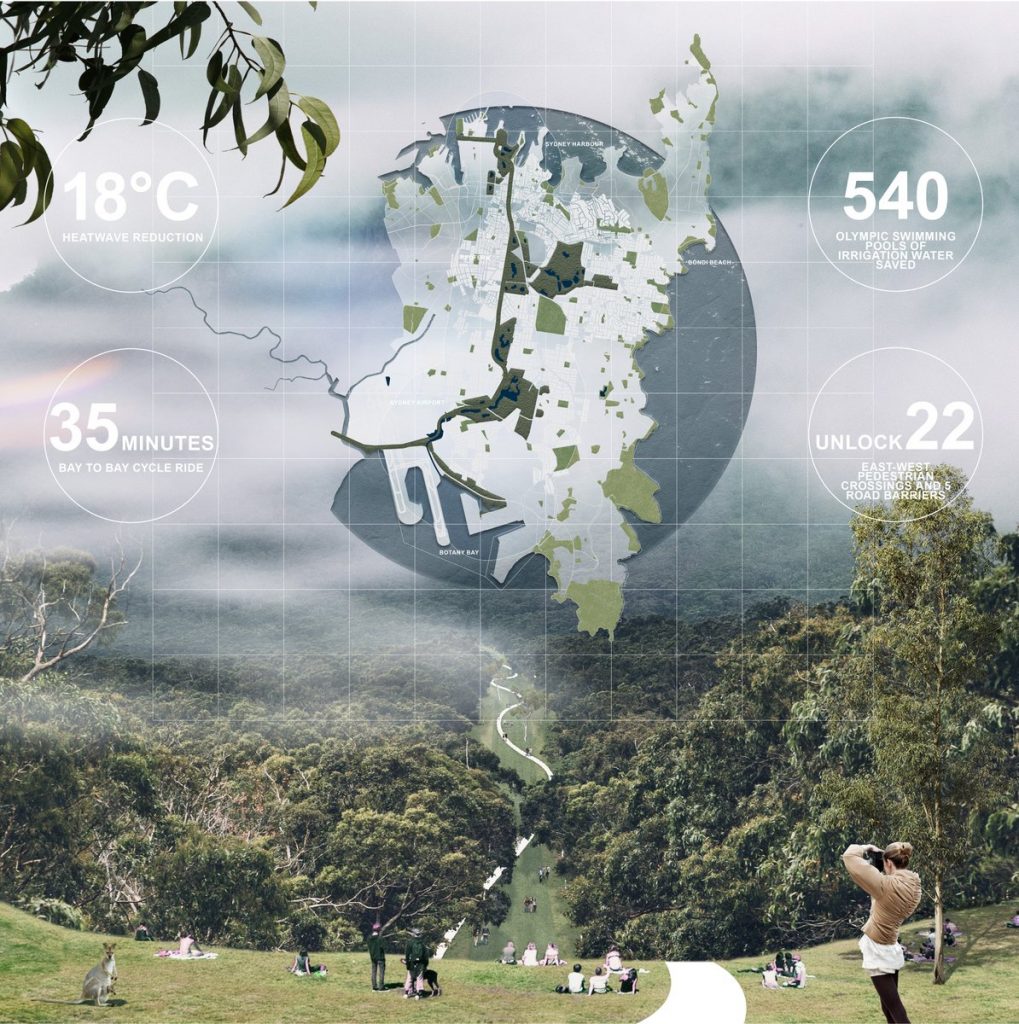 View Full screen
OUR FOREST OF RESILIENCE
McGregor Coxall
Reclaiming the Balance
The past year has seen a global pandemic, catastrophic bushfires and floods, as well as global conflicts amongst communities and authorities. It's clear the time to act quickly to address longstanding issues, solve new problems and revisit opportunities is now.
Public, accessible spaces for all are not a 'nice to have', but a need for any global city and community to ensure social, cultural, environmental and economic resilience. Parks are essential for recreation and respite, for meeting and congregating, and of course for getting close to nature, all of which boost our health and wellbeing. This is very evident now with social distancing in effect.
However, as Sydney densifies and becomes increasingly vulnerable to climate-induced heat stress, its largest green spaces remain largely closed off and sitting idle as golf courses, while its public open parks become overcrowded. We with the Government need to rethink, adapt and recover.
Across the Harbour City of Sydney we have identified an opportunity to optimise the use of land, infrastructure and underused assets and reimagine this space as one of the greatest urban parks
in the world, reshaping the lives of millions and providing a more resilient future for the people of Sydney.
It's time to send the barrier of the M1 from the airport to the inner city underground, to reclaim numerous underutilised golf courses along it and to prepare for the ultimate rehabilitation of the
environment and planning of a resilient blue-green parkland that addresses the issues of climate change, social inequality and leaves a positive legacy for subsequent generations.
Our vision is for Sydney's Forest of Resilience that is a cool sanctuary and connector for the community. A green, ecological corridor that connects the waters of Botany Bay to Sydney Harbour, as well as the threshold between the inner West and the Eastern Beaches. The leafy green environment will weave a flourishing forest and a chain of wetlands into the city, providing a cool refuge for residents and biodiversity to address hotter, longer and more frequent heatwaves.
It will provide opportunities to connect public transport and active networks, link play spaces, vegetable gardens, workspaces and grassy grounds all designed for functionality, biodiversity and essential biophilic living.