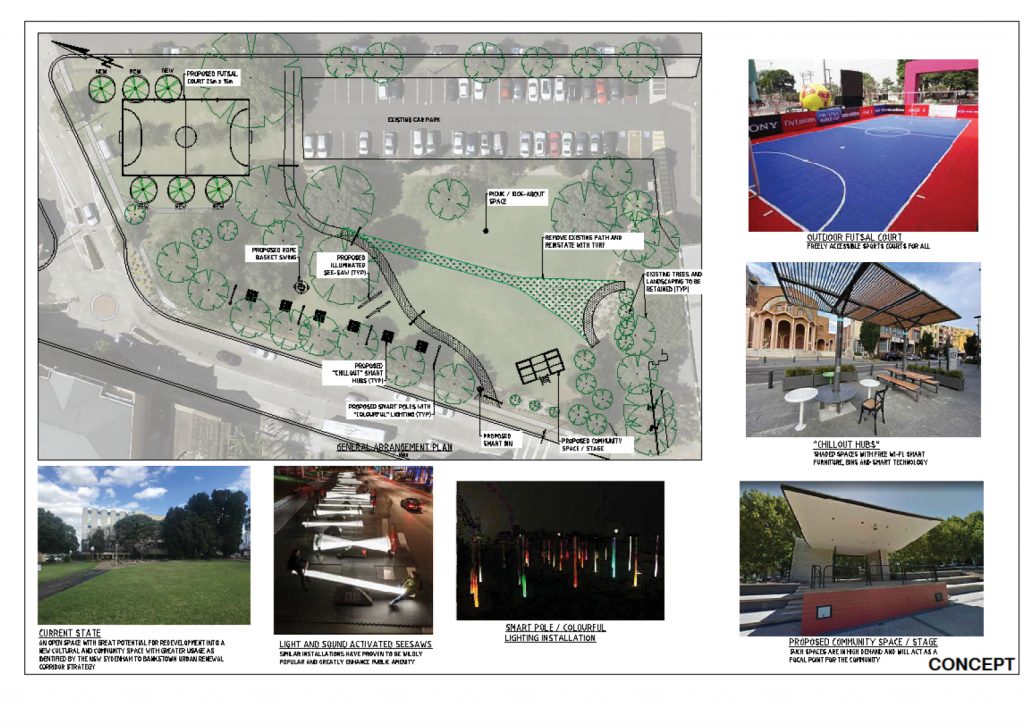 View Full screen
Open Space Upgrade
Alan Tan, Nathaniel Coelho, Richard Saliba & Jeong (Tommy) An
Transforming an under-used open space into a focal point for the community.
This idea envisions the revitalization of an under-used open space which will encourage public patronage, increase activity and vibrancy of the area, encourage people to get active and serve as an attractor to the region for Sydneysiders in general – in line with NSW Government's Sydenham to Bankstown Urban Renewal Corridor Strategy (henceforth referred to as S2B Strategy).
Located within 400m of a railway station, this idea proposes the following elements:
Community Stage and Platform: such a space is under high demand and will act as a focal point for the community, as identified by the S2B Strategy.
"Chillout Hubs": spaces for relaxation and recharging with Wi-Fi and Smart Technology.
Free-to-access outdoor futsal court.
Smart Pole and feature lighting installations which create unique and attractive spaces.
Light and Sound Activated Play equipment: similar installations have proven to be wildly popular worldwide and greatly enhance public amenity.
Park reconfiguration, new foot-paving, landscaping and tree planting to create a more attractive streetscape environment.
Such upgrades have been long-requested by the community. With increased growth forecast for the region, there will be an ever-increasing demand for high-quality open spaces. This idea will transform this under-used open space into a truly great public for sports, relaxation, events, picnics and more. This area can capitalize on its proximity to the proposed Metro Station, vibrant cuisines and retail premises – creating a better life for the community and Sydneysiders in general.