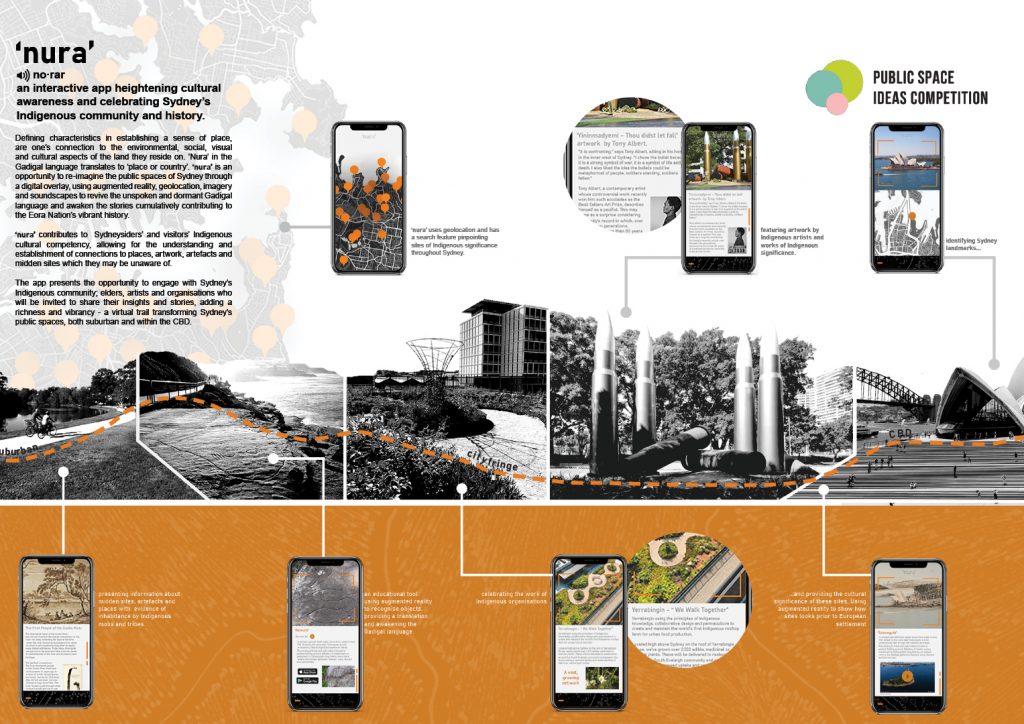 View Full screen
Nura
Joanna Ahtypis, Stephanie Austin
An interactive app heightening cultural awareness and celebrating Sydney's Indigenous community and history.
Defining characteristics in establishing a sense of place, are one's connection to the environmental, social, visual and cultural aspects of the land they reside on. 'Nura' in the Gadigal language translates to 'place or country'. 'nura' is an opportunity to re-imagine the public spaces of Sydney through a digital overlay, using augmented reality, geolocation, imagery and soundscapes to revive the unspoken and dormant Gadigal language and awaken the stories cumulatively contributing to the Eora Nation's vibrant history.
'nura' contributes to Sydneysiders' and visitors' Indigenous cultural competency, allowing for the understanding and establishment of connections to places, artwork, artefacts and midden sites which they may be unaware of.
The app presents the opportunity to engage with Sydney's Indigenous community; elders, artists and organisations who will be invited to share their insights and stories, adding a richness and vibrancy – a virtual trail transforming Sydney's public spaces, both suburban and within the CBD.