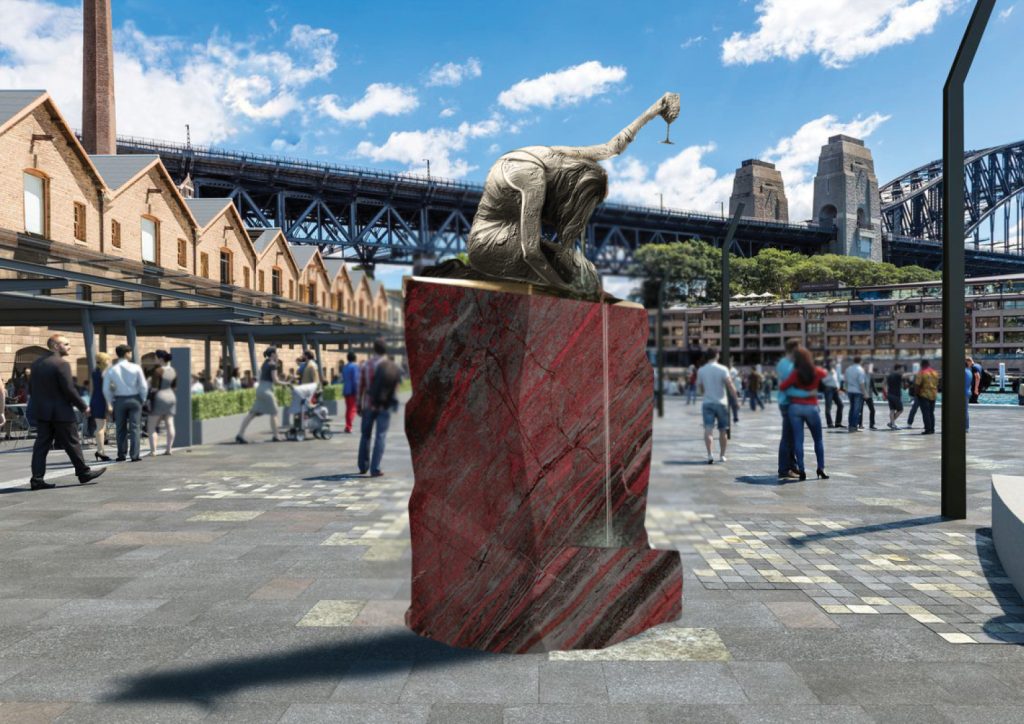 View Full screen
Monument to the Unknown Drinker
Sam Bompas
Drinking Fountain at The Rocks
How do you create an Australian icon with international renown for the price of a small car?
The Monument to the Unknown Drinker celebrates Australia's complex bibulatory history and contested relationship with alcohol thorough a functional sculpture that serves remind people to drink safely while facilitating hydration.
The cast bronze statue is an ode to the pleasures and perils of alcohol. Whilst celebrating the joys of frothy ale, distilled spirits and the friendship of the grape, the statue gently cautions against excess. Functionally the Monument to the Unknown Drinker operates as a mechanical drinking fountain thereby enabling and encouraging responsible drinking.
With good design uniting the experience it is anticipated that the new Sydney monument will swiftly become an iconic landmark, celebrating an important facet of Australian culture.
A liquid history
Alcohol consumption in Australia began at an annual high point of 13.6 litres of pure alcohol per head in the 1830s. Today Australian's enthusiasm and expertise with alcohol continues, producing some of the finest wines, beers and spirits on the planet.
Iconic design
The design draws inspiration from Manneken Pis in Brussels, the relief sculptures of Tom Bass and the satirical work of William Hogarth to create an installation that is engaging and iconic. Visitors will reach for their camera phone as they have a refreshing draft of water from the fountain. As they take pictures the statue becomes an important tool with which to articulate the stories of their own lives.