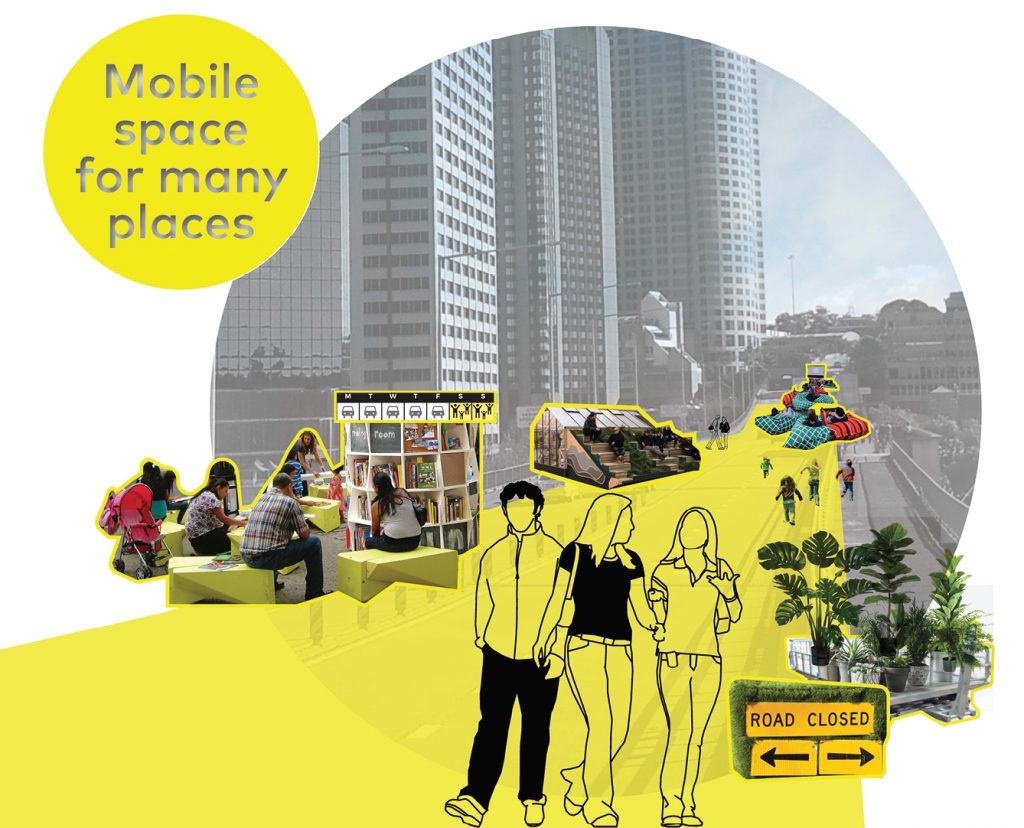 View Full screen
Mobile Spaces for Many Places
Cox Architecture
Taking back the streets for people with a calendar of temporary pedestrianisations and activations
Mobile Spaces for Many Places is a moving program of temporary street activation with pop up parklets and community programming in streets across Sydney. The project will pedestrianise key streets each weekend to provide additional open space for Sydneysiders and provide new perspectives on how our streets can be utilised.
Redundant baggage handling trolleys and airport vehicles can be repurposed to move or become parklets, pop up libraries and outdoor furniture to different streets each weekend, enabling communities to reimagine their own streets.
Roads such as the Cahill expressway can be pedestrianised on weekends providing more people with the best views in Sydney from their new open space. Local high streets can be transformed into people-oriented public spaces on weekends to support local retail and bring communities together outside their homes.
Great public space Mobile Spaces for Many Places will create playful and people-oriented public space in places where it is unexpected, sparking joy and pride in the communities who use it and stimulating ideas about the value of streets as places for people – as they were originally intended!
The project is low cost and repurposes airport vehicles that are currently underutilised due to COVID-19, into movable public spaces. In addition, the pedestrianisation of existing streets on particular days utilises an existing asset and repurposes it for public gain at no cost.