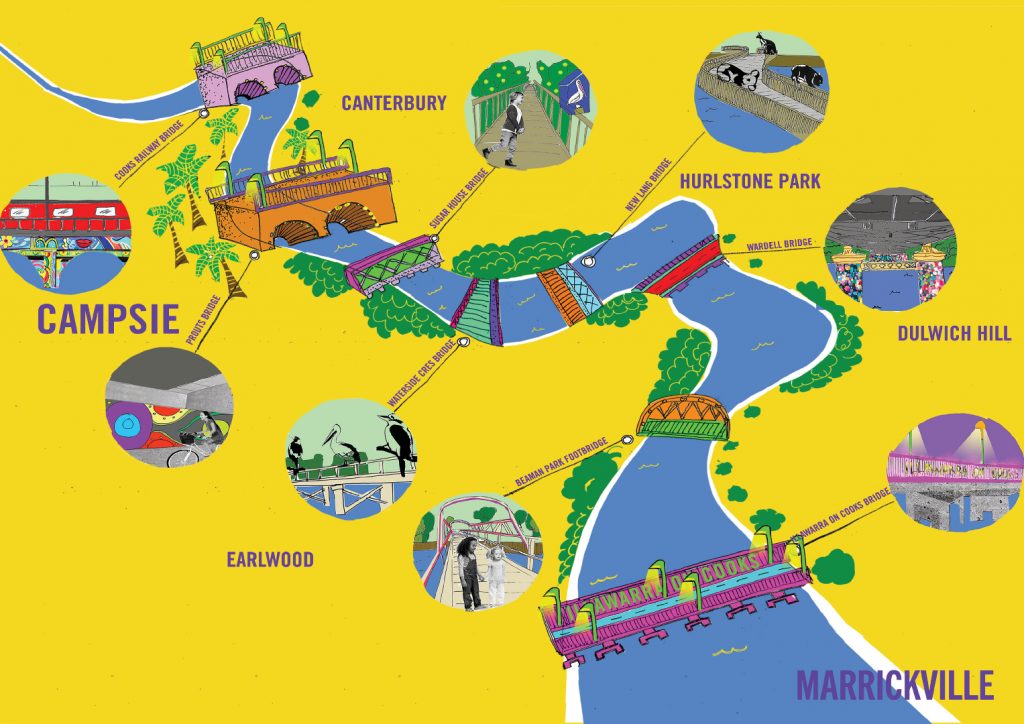 View Full screen
Meet Me At The Bridge
Giulia Mardaga
The Cooks River is the most polluted and altered watercourse in Australia. Today in unprecedented crisis times, locals are crowding the shared paths searching for fresh open space. The dense neighbourhoods of Campsie, Canterbury, Earlwood, Hurlstone Park and Dulwich Hill are suffering from a lack of family-friendly green space for exercise and mental wellbeing.
Before European settlement, the Goolay'yari (the Pelican) was teaming with wildlife; an important gathering ground for trade, socialising and ceremonies. Since James Cook and the mapping of the river in 1770, the natural banks, beds and marshlands have been damaged by urban and industrial growth. Despite investment into riverside parks, shared cycle and walking routes, the full clean-up has been relegated in the "too hard" basket.
Meet Me at the Bridge reimagines the River and re-establishes its gathering place heritage. The bridges are memorable locations to safely re-connect with friends, reduce isolation, improve mental and physical health. The connecting symbolism of the bridges stimulates gathering along and across the river. The idea brings identity, navigation and togetherness. As part of a public art trail, the bridges will transform into lively precincts, encouraging investment into cleaning up the waterway.
Contextual murals, light installations and sculptures will be commissioned through partnerships with local business, community organisations, and residents. Integration of heritage and the use of robust materials will support the project's success. Sydney will have a new local landmark, a great public space, and an opportunity to re-write the River's history.