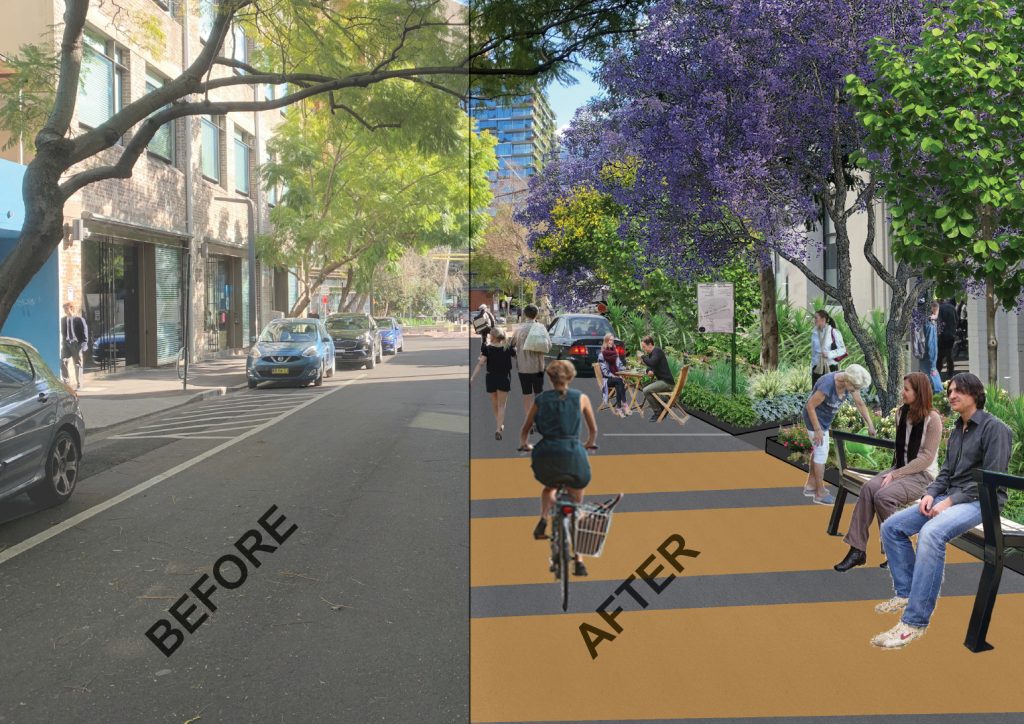 View Full screen
LIVING STREETS OF CHIPPENDALE
Mike Horne
Urban precinct strategy creating a network of living green streets that put pedestrians first
Background
Chippendale has a long history of community-led street greening, from the edible streetscapes of Myrtle St, to the eclectic 'footpath gardens' that exist in the lanes today.
The Status Quo
low traffic volumes in the local streets
existing need to walk on the road due to narrow
sidewalks, poles, parking meters, planting, bins, etc.
Perfect pilot project location for a Living St precinct
The Living Streets
Streets become an extension of ground-level living
and working spaces.
Shared streets allow for the greening of sidewalks –
increased urban habitat, biodiversity, and air quality.
Wider pedestrian paths (the existing roadways) also
removes ambiguity of on/off-road paths.
Slower streets (8km/h) for pedestrian / bike priority
Leaving a legacy
How will our post-COVID-19 society be remembered
for generations to come? Converting our local streets
to high-performing pedestrian-friendly open spaces can
be our legacy. The process of this change can be part
of a larger community building and local employment
strategy that brings a positive and healthy change to our
urban centres.