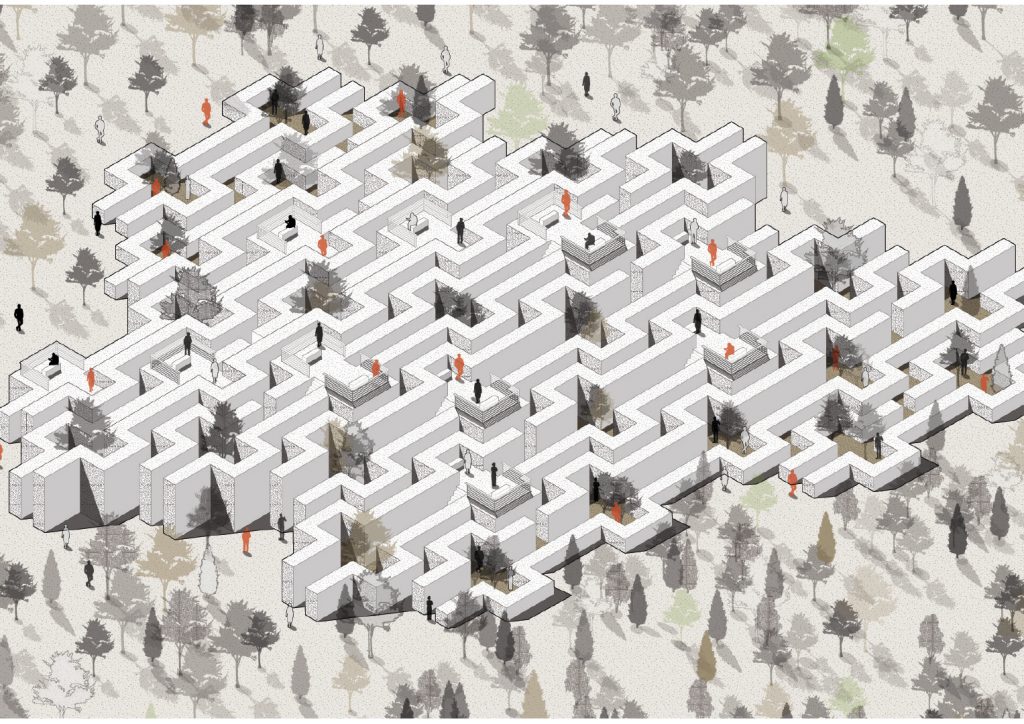 View Full screen
Labryrinth
Jacob Ainsworth
The potential application for labyrinth form and psychology in public space design
In the context of a global pandemic, and an artificially connected era, how can public spaces be used safely and creatively? As a profound archetypal symbol throughout history, the psychology of the labyrinth has been concerned with journey and self-discovery. Our public spaces can be used in ways that make us reflect on society and ourselves and reconnect us with nature.
By implementing labyrinth style pathways through the landscape, we can safely distance from one another, while providing spaces for people to reconnect with themselves and the natural environment.
The unicursal labyrinthine approach is intended to imitate the intimate essence of nature and serve as a meditative experience. While one pathway in and out keeps people at safe distances.
The proposed labyrinth design has multiple centers along each pathway, allowing four square meters in a recessed alcove for an individual to occupy. Elevated platforms act as vantage points throughout the labyrinth, serving as a contrasting experience from the alcoves. They provide brief escapes from the labyrinth offering glimpses of the pathway ahead.
Trees are able to grow in each alcove, as the natural environment slowly encroaches and envelopes towards the center of the labyrinth.
Analogous to our own journey through this challenging time, you will come out of the labyrinth more open and appreciative than you entered. Providing reassurance and confidence.