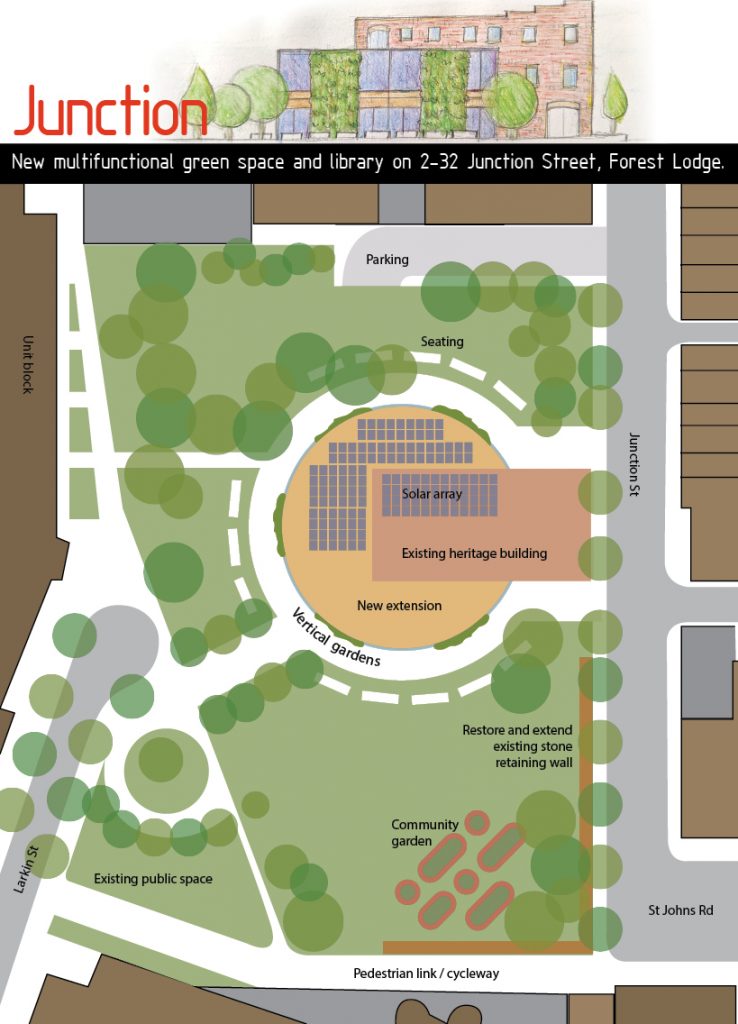 View Full screen
Junction
Mark Fukuda-Oddie and Franc Conn
New multifunctional green space and library on 2-32 Junction Street, Forest Lodge
Joining with Larkin Street Reserve, Junction creates 5000m2 of new community green space, a pedestrian/cycling link between Camperdown and Forest Lodge, and a revitalised heritage building for library, community, retail, and small scale commercial use.
Design, landscaping, and the free internet powered by solar energy, facilitates many inclusive and accessible uses: recreation, community gardening, working, studying, performances; and extends library services throughout the park. Landscaping focuses on mitigating the effects of climate and conserving local wildlife, in particular, the Superb Fairy-wren.
Junction enriches the lives of many residents within 400 metres of the park, and addresses the serious shortfall of open space in Camperdown. The park is also accessible to the 40,000+ Sydneysiders who live and work in neighbouring suburbs, and those further afield, by foot, bicycle (already within Sydney Bike Network) and public transport. Junction's accessibility is expanded by the provision of underground mobility/essential parking.
This is great public space because it engages and connects the community in many different ways. The solar power and free internet future-proofs Junction for new uses, and can support the community in times of crisis. These features, and the socially-distanced layout of facilities, makes the park a safe haven in pandemic times for exercise and work.
Junction will not only transform carpark to community green space, but the way we use and think of a park. A government decision to acquire this land, prioritising the community, and our changing climate, would be truly transformational.