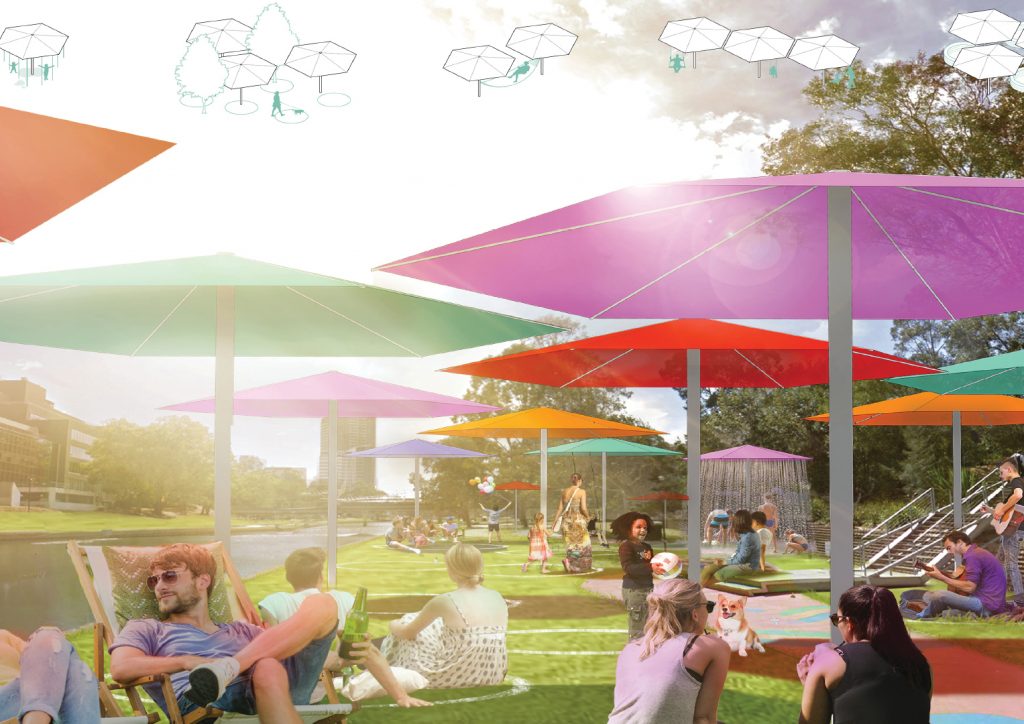 View Full screen
JOLLY BROLLIES
Gauri Torgalkar, Felicity Lewis, Diana Griffiths, Adam Natoli, Rodrigo Sepulveda & Chinmayi Holla
Installation of large colourful umbrellas throughout public spaces to lift spirits & provide shade
It's going to be 40 degrees outside today and Ruth is a bit worried about how the kids will fare, given it is a Saturday. Most summers when the temps get this crazy, everyone heads off to the shopping centre for some ice-cream and much-needed air-con. Now with Covid-19, Ruth wasn't so happy to spend all day inside, but it was too hot to spend all day outside in the local park either.
Just then she remembered that her friend had mentioned a place she had visited recently, a new installation called Jolly Brollies – large umbrellas all over the city, installed in places that could use some shade (until the trees grow there, anyway). She googled it and 'Voila' there was one just down the road from her home.
'Come on kids' she said. 'Get your sunscreen and snacks, and don't forget the hammock, we are off to chill under the Jolly Brollies! Social distancing and all'.
Jolly Brollies are a flexible short-term solution to a lack of tree canopy anywhere in the city, providing a range of benefits and opportunities for the community to engage safely in a fun and entertaining environment. The size of the Brollies ensures social distancing is encouraged, and they are sturdy enough to support hammocks, swings, and photovoltaics that can then power night-time lighting so that the fun can continue well into the evening.
They can be movable and set up when and where required, and then packed away till next year.