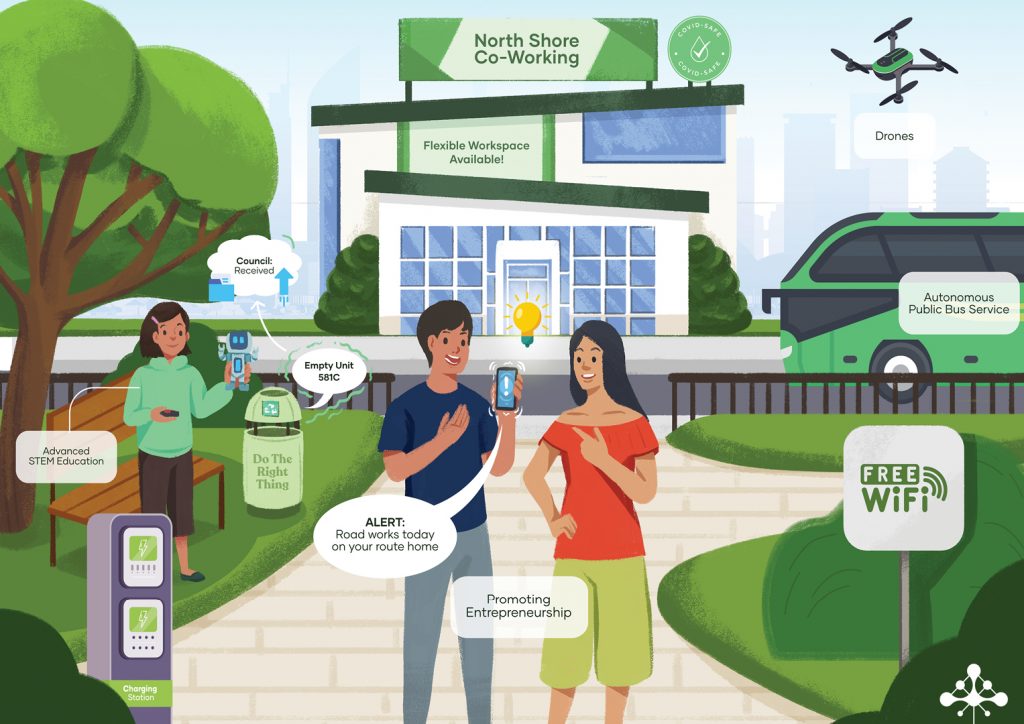 View Full screen
Innovative Open Spaces
Shireen Bernstein
We envisage an open green space, close to a city or suburban street in Sydney. Innovative Placemaking is our transformative strategy: to create a place that has both a strong sense of community and comfort as well as providing a setting, activities and uses that collectively add up to something more than the sum of its simple parts.
This place is replete with technological innovations that improve the sustainability, livability and safety of our community. A drone quietly buzzes overhead to deliver food to an elderly resident who can remain in their home with the assistance of technology. The adoption of an IoT infrastructure with connected roads and 'smart' devices means bins no longer overflow, lights are fixed immediately and traffic flows seamlessly. An electric autonomous bus service glides past silently, removing the need for multiple cars and parking spaces, creating a cleaner, safer community.
A nearby coworking and innovation space enables many residents to work locally, creating a stronger sense of community and improved wellbeing for residents. The open green space has been transformed with free public WiFi, covered seating and outdoor charging stations, allowing people to work outdoors. IoT connected lighting and security monitoring also ensure everyone gets home safely.
Shared community workspace has facilitated serendipitous meetings between startups and entrepreneurial ideas are flourishing. This paradigm has spilled over onto the local public schools, which now offer advanced STEM, including coding and robotics, as part of their curriculums, preparing students for the innovative jobs of the future.