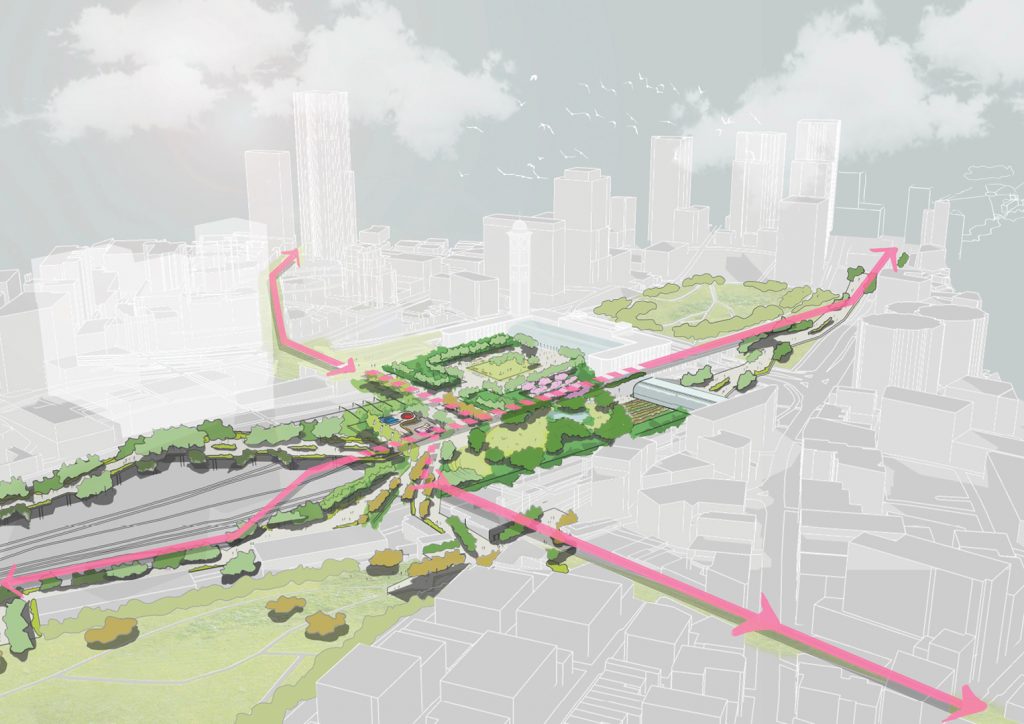 View Full screen
Infrastructure as Landscape
Mark Saint Pol
Erasing Barriers with Connective Landscapes
Central Station has become a barrier within the City and increasing commuter transport pressures have produced harsh, congested, and unsafe streetscapes for people. The infrastructure as landscape approach turns this around completely, transforming Central Station into one of Sydney's primary open space destinations.
An extensive landscape deck is inserted over the station platforms. Nature areas, food gardens, a market square and a skate park provide a protected vantage point with spectacular sun-filled views of the Sydney skyline. The Grand Concourse roof is elevated, providing a vibrant café terrace spilling onto the market space.
The new park connects Surry Hills to the CBD and Haymarket, activating the ultimate bay to beach walk tourist route from Barangaroo to Bronte Beach. A secondary route connects the north to the south, creating a green corridor from the Opera House into Prince Alfred Park. An elevated high line cycle route connects to the Inner West via a much needed, safe, and enjoyable NMT route.
It becomes a meeting place in a generous and memorable landscape setting where you can be surrounded by nature in the middle of the city. Mounded landscapes with windbreak trees create a protected environment for people to picnic and play, creating a much-needed antidote to the high density, shaded inner city. Fruit trees and market gardens allow locals to grow their own food and teach people about food security, reconnecting neighbourhoods and communities and encouraging healthy, resilient lifestyles while creating new economic opportunities and connecting people to nature.