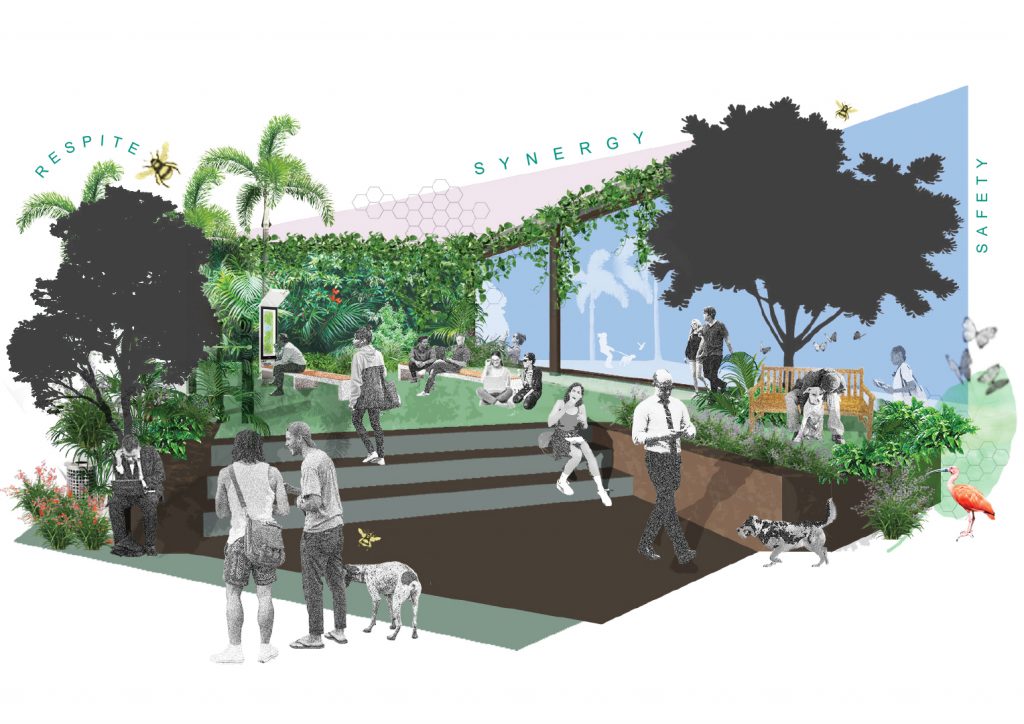 View Full screen
In-A-Job Park
Nathan Clausen, Jason Taylor, Kate Phillips, Tim Ivers & Kelsy Pearce
Transforming underutilised inner city spaces into public spaces facilitating respite, synergy and safety.
With a challenging economic forecast, employer demands to reduce costs and employee realisation of the benefits of WFH, Sydney's demand for CBD office space is declining.
Through Council land acquisition, unused inner-city commercial spaces, such as foyers and shop frontage are repurposed to provide open spaces or In-A-Job Parks. The In-A-Job Parks' main function is to provide well-being through collaborative services to a range of Sydneysiders.
The principles behind the imagining of this park are Respite, Synergy, Safety. The intent of the In-A-Job park is to transform commercial space with street frontage into public space with offerings of robust furniture, small scale activity, community gardens, Wi-Fi and laptop chargers.
With the refinement of how we work and recreate, isolation and mental wellbeing have become a public concern. In-A-Job parks offer respite from the seclusion of the new social landscape, whether you're WFH or lying about the apartment, In-A-Job Parks allow the user to sit comfortably and work on mobile devices amongst the goings-on of the world.
As an initiative to upskill and train, non-for-profit organisations, like the Afford or the Homeless Connect Program, can be engaged to assist in the maintenance of the parks. Whether it be care of the community gardens, general upkeep or just participation in the neighbourhood, In-A-Job parks will offer community synergy and belonging.
Safety is an important aspect of the In-A-Job Parks. A premise must be suitable for the repurposing into a park and have prominent street surveillance and/or the