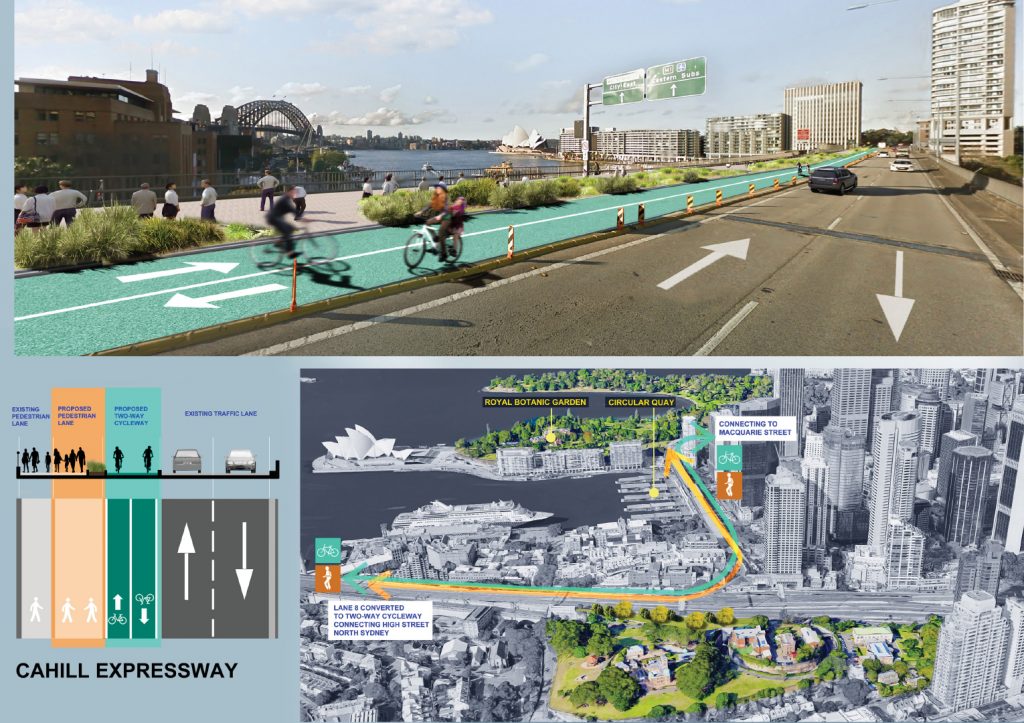 View Full screen
High Line Begins
Nigel Dickson, Luke Hiorns, Carlo Pascaran, Anne Warr & John McInerney
Reclaiming the space for the people
Reclaiming roads from cars and giving them back to the public is the key theme for this big idea.
By removing two lanes of vehicles from the Cahill Expressway, a major new pedestrian and cycle link are created that allows cyclists to avoid the treacherous ride amongst traffic through the CBD and instead offers a leisurely ride overlooking Sydney's picturesque harbour.
This great idea gives the road back to the people of Sydney and creates a world-class public space that is truly unique. With informal landscaping, it will offer places to stop, look and experience Sydney from arguably its greatest panorama. The space will attract locals and tourists alike, helping to bolster the vibrancy of Circular Quay and offering opportunities to further develop the night-time economy.
Instead of cars rushing by on the elevated expressway, imagine cafes, bars and landscaped places for family picnics along the former roadway, active during the night as well as the day. The wide pedestrian way will add around 4,000 m2 of new public space to Sydney, space that can include pop-up cafes, bars, food shops, changing with the various festivals Sydney delights its locals and visitors with.
This intervention has the possibility to be an extra jewel in Sydney's already glistening crown creating a public space that would be unrivalled for spectacular views anywhere in the world.