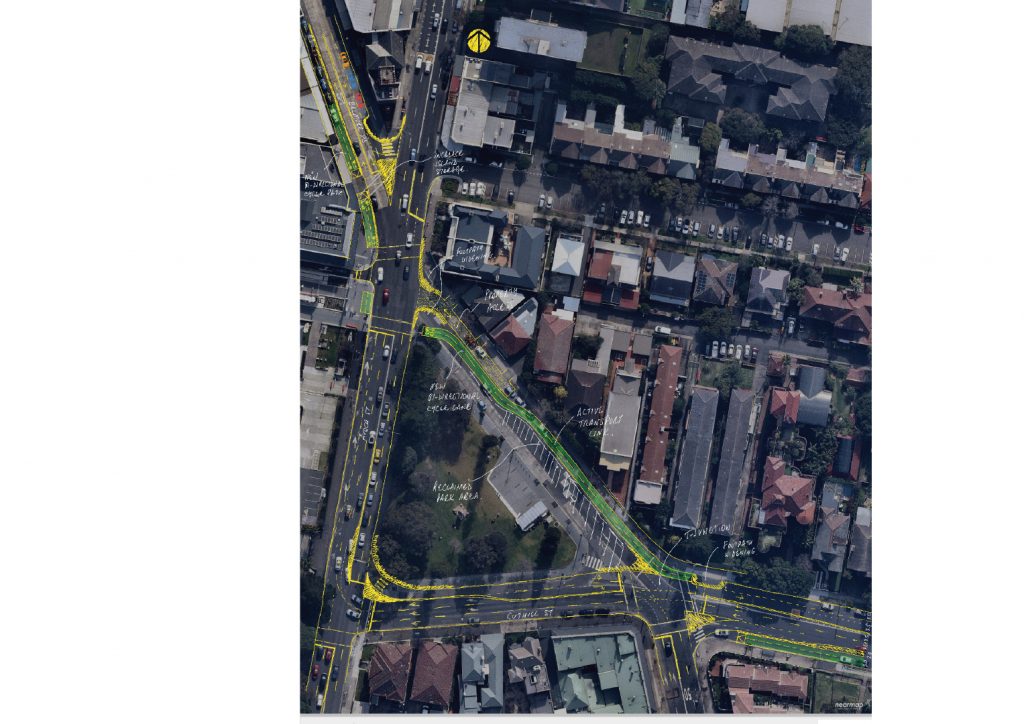 View Full screen
High Cross Park: Traffic Island to Thriving Park
Haluk Camcigil, Matthew Stephens
Re-invigorating High Cross Park and improving bike connectivity to Coogee Beach
Randwick Junction is a vibrant precinct with a mix of retail, dining, education, and medical facilities. Among the hub of activity however, two things are noticeably absent: outdoor public spaces and bicycle infrastructure. This project seeks to address these shortfalls through two complimentary interventions to disrupt the dominance of vehicular traffic in the area:
1) Outdoor spaces – Located in the heart of Randwick Junction is High Cross Park. It is surrounded by multiple lanes of traffic effectively relegating it to a traffic island. Pedestrian access to the park is limited with only two out of three roads providing safe crossing facilities. This project aims to realise the true potential of the park by extending its eastern boundary across all four lanes of Belmore Road. As well as enlarging the park, this would enhance pedestrian access to it and create space for outdoor dining, exhibitions and performances. The additional space adding resilience as we adapt our open spaces post-Covid19.
2) Cycling – While many bike users can be seen around Randwick Junction, they often cycle on the footpath to avoid fast-moving traffic. This creates conflicts with pedestrians and reduces the appeal of cycling as a viable mode of travel in the area. A cycleway is proposed from Coogee Beach to Randwick Junction, adding an active transport buffer to High Cross Park, and then onwards to the existing cycleway on Wansey Road via Arthur Street. This would complete a missing active transport link between the beach. Randwick Junction and Wansey Road.