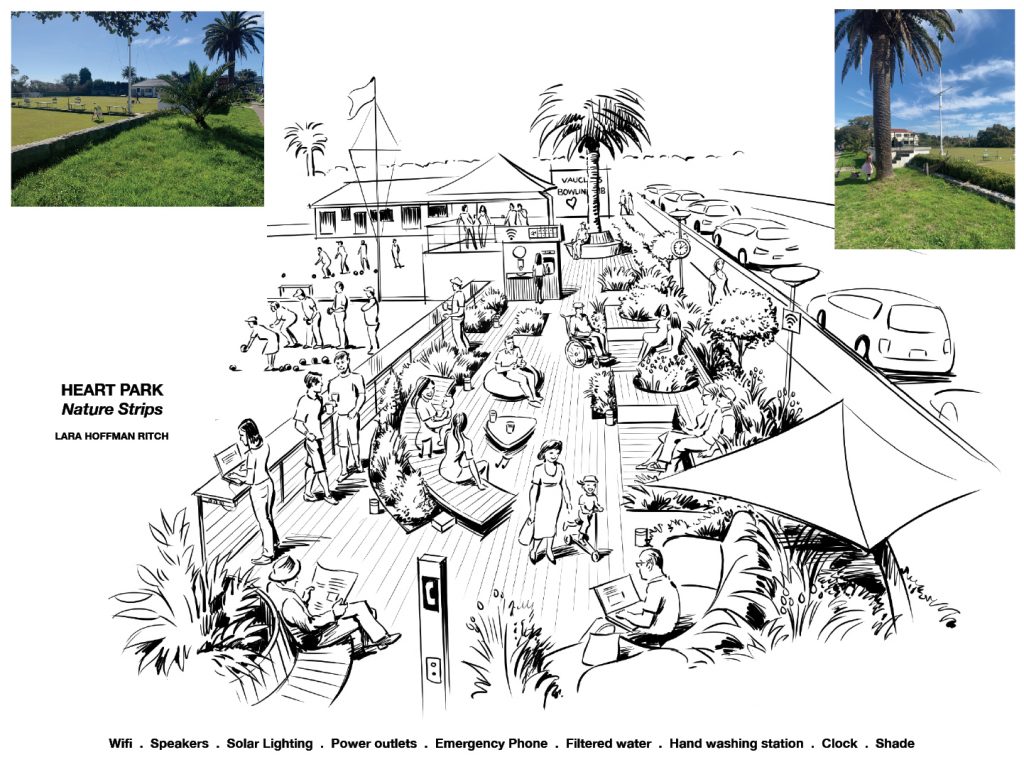 View Full screen
HEART PARKS – Nature Strips
Lara Hoffman Ritch
Extending villages to ensure the hearts of our communities and our own hearts remain strong.
Before Covid, 1 in 4 Australian's reported feeling lonely. Now, with governmental restrictions and the concern being inside restaurants has meant that businesses in our local villages have suffered and we too are suffering by not having our social needs met.
I have discovered an array of overlooked green spaces (as opposed to large parks) that are a stone throw from key village centres. These spaces are typically large patches of grass with a few bolted-down benches, which ignore the growing needs of our cross-generational society. My idea is to revisualize these found spaces into safe, practical, flexible and socially buzzing Heart Parks.
Being in such close proximity to the village centres makes these Heart Parks incredibly valuable. Safe and accessible design details create an atmosphere of inclusivity for ALL, while design features like multi-dimensional seating give people options to spread out or gather in small social pockets. While a community stage invites local musicians, performers and businesses to engage with their community with standard Heart Park amenities including WIFI, charging outlets, speaker systems, solar lighting and care stations (hand-washing, emergency phone, filtered water stations) facilitating this multi-purpose community destination. Natural materials and landscaping details make it a peaceful and uplifting environment to spend time in.
Right now, these locations are sitting empty with no clear strategic vision. This idea completely transforms them into vital lifelines for our businesses and communities while providing a destination that encourages social engagement in a spread out, safe and uplifting setting.