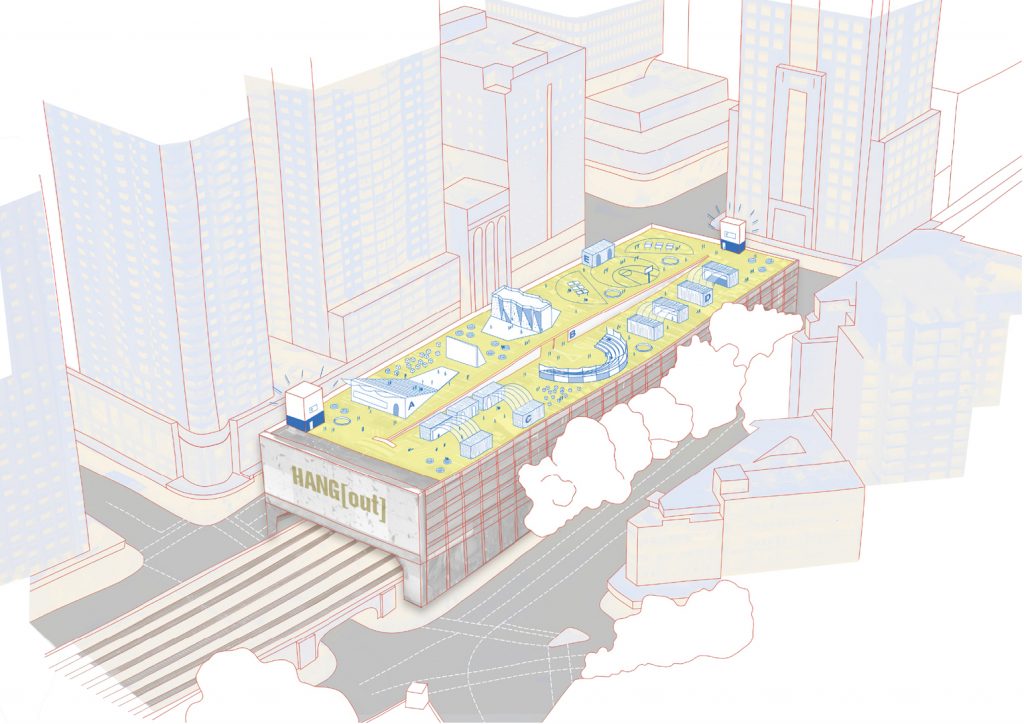 View Full screen
Hang[out]
Vanessa Trowell, David Barnard & Victoria King
Hang[out] is public space for young people - to inhabit and be included!
Public space represents some of the only opportunities young people have to spend time outside of home or school. This makes them some of the most frequent users of public space. However, young people are often made to feel unwelcome in public space, at a time where they need independence and be included in civic life. Young people need a welcoming third space for expression, belonging and recreation, in the journey of developing personal identity. Hang[out] is a retrofit solution to introduce a personalised space just for young people in forgotten places. The underutilised rooftop of the Goulburn Street Car Park offers a blank canvas as a place to hang out, to gather, to be seen and for self-expression.
Hang[out] is free, curated and not too prescribed. The modular design supports flexible, multiple uses, with a caretaker to facilitate opportunities and maintain the space:
A The Bleachers – tiered seating for conversations and being seen
B The Performance Pod – amphitheatre for theatre sports, drama, music, dance
C The Rehearsal Room – enclosed space to rehearse or collaborate
D The Tech Lab – enclosed space with access to tools and tech to create or make
E The Adventure Court – climbing, table tennis, hoops
Hang[out] creatively overlooks and challenges adult assumptions and regulations about how public spaces should be used by young citizens!