Best Resilient Public Space Idea
Highly Commended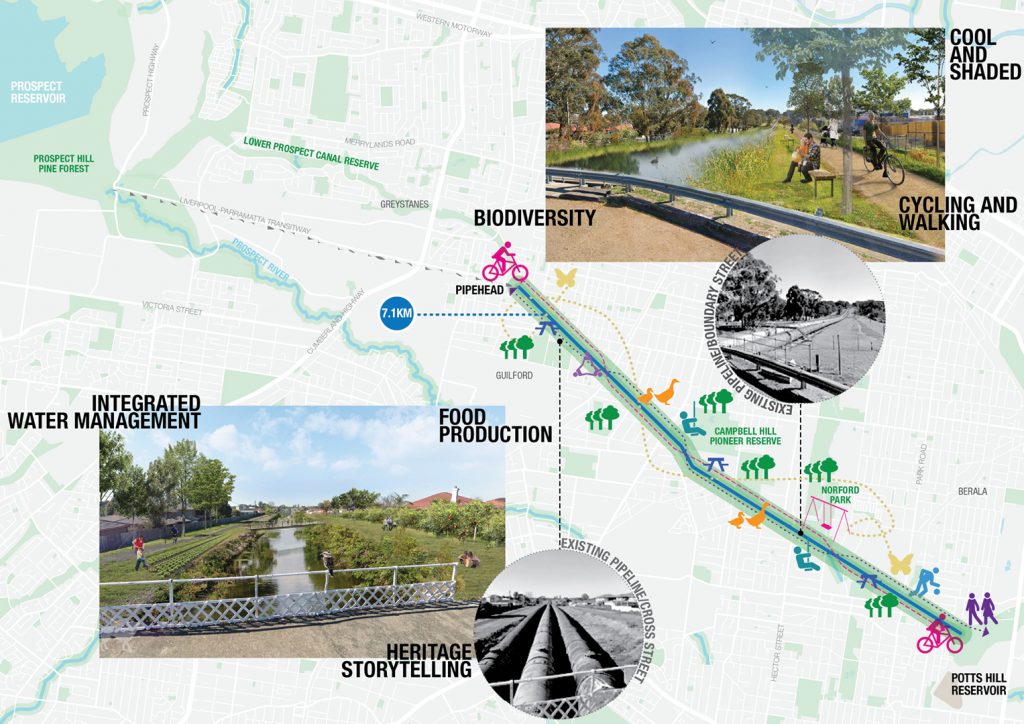 View Full screen
Greening pipes to cool Sydney's west
Lidia Lewis, Tessa Colclough, Glenda Yiu, Samyuktha Pillai & Victor Caringal
Creating the backbone of Western Sydney's green grid: expanding backyards, restoring waterways and connecting communities
Our vision to naturalise the 10km pipeline from Pipehead to Potts Hill reservoir restores the corridor to form a flourishing riparian landscape and interconnected green spine for Sydney's western suburbs and communities. Containing potable water pipework, this pipeline is a largely fenced off, long and wide corridor that homes 3 large pipelines of which only one is operational. Opening the reserve surrounding this pipeline and decommissioning the inoperable pipes will revitalise this linear landscape into community loved infrastructure.
Continuing the success of the heritage-listed Lower Prospect Canal reserve, this new connection will engage with its surroundings and provide new opportunities for the local environment, economy and population. It will also be a corridor where community co-design is utilised to deliver a series of locally significant places that directly respond to the needs of the surrounding residents.
The length of the corridor provides opportunities for:
Promoting cycling and walking within a connected cool and shaded open space network
Localised and accessible food production to support the increasing population in the area
Flooding mitigation and sustainable water management
Biodiversity improvements through extended connections for local and endemic flora and fauna
Connection with Country and indigenous storytelling and education
Art installations and story-telling of industrial heritage and water infrastructure
Children's play spaces for a range of ages
Importantly, it will need to feel and be safe and provide equitable access for all its users. CPTED will be embedded to maximise use.