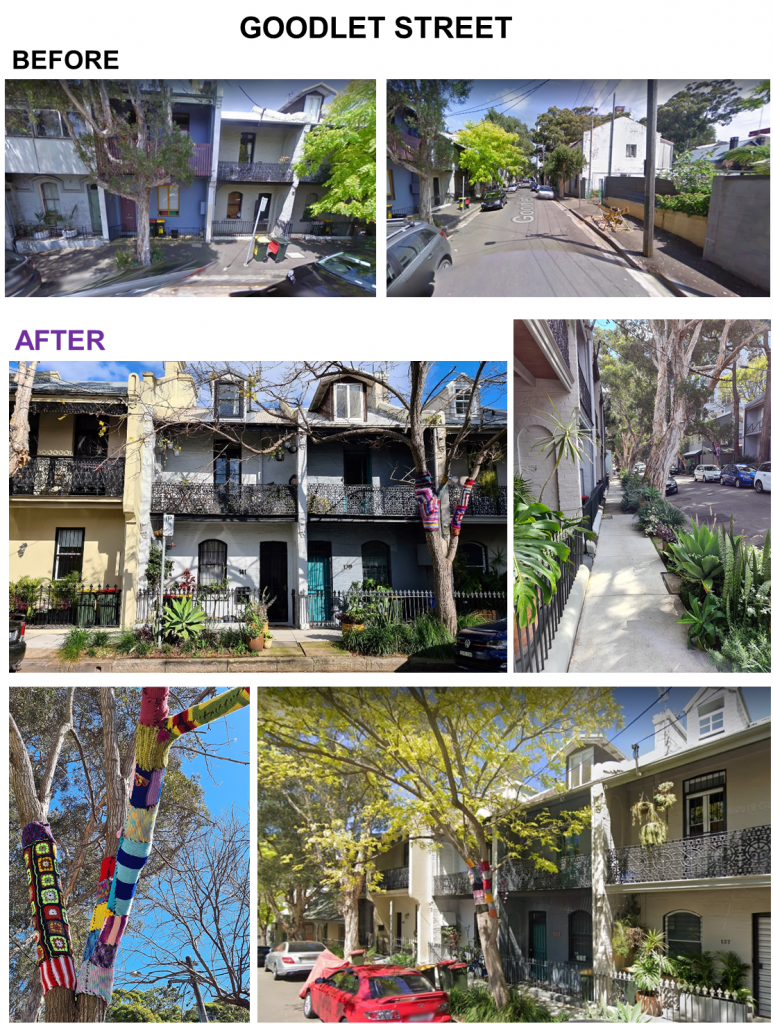 View Full screen
Goodlet Street Community
Lee Hutchings on behalf of the Goodlet St Community, Surry Hills
The expansion of the public realm is a community driven greening philosophy
Expansion of the public realm becomes possible by the community gardeners extending their passion for sustainability, greenery and artistic flair. This is done for the benefit of the public and community who commute through and live on Goodlet Street, Surry Hills
On Goodlet Street (between 127 to 145 Goodlet Street and expanding), the project started as a way to swap local evils for love; by reducing needles, paraphernalia and verbal abuse for flowers, art and beauty. Our project unified us, created a community and has made the street safer for all.
We were unexpectedly helped by the City of Sydney who increased the nature strip. We made a significant investment in plants, pots, water, wool and time to fill the nature strip and surrounding areas. We continue to add tree cozies and art which has created colourful embellishments for the trees and brings vibrance and interest to the street.
Our community often spends time outdoors gardening, improving and maintaining the street and enjoying time in the sunshine with the beautiful new street outlook.
We plan to continue to add to the street and surrounding areas with compost bins, herb / vegetable gardens and art.