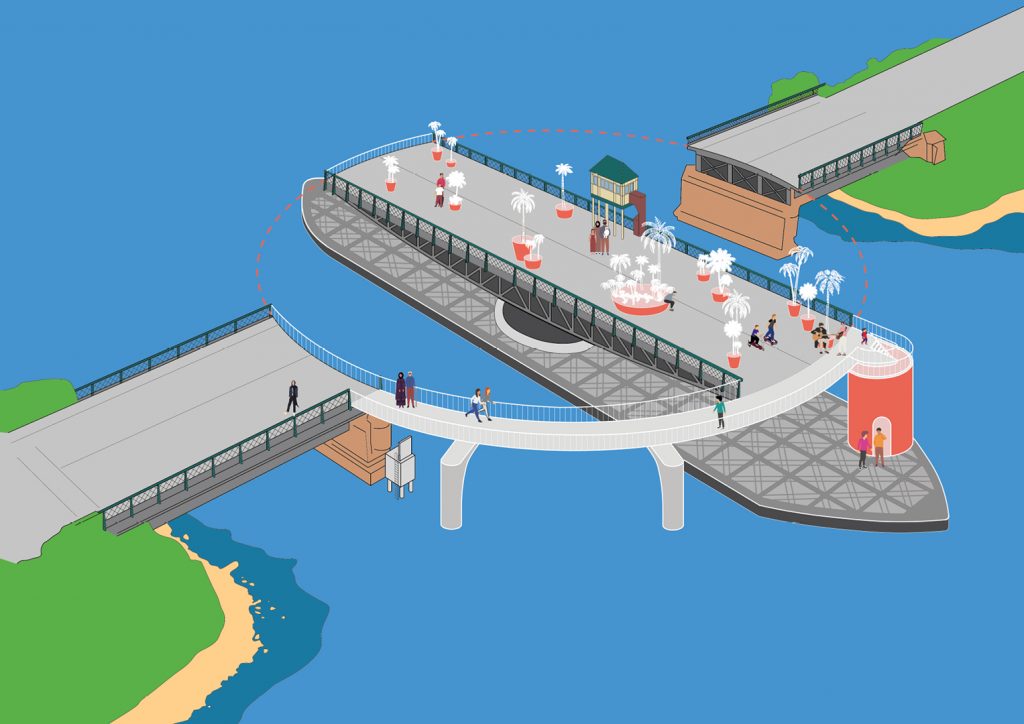 View Full screen
Glebe Bridge Island
Jacob Levy
Sydney's new island destination: A project for the reclamation and restoration of Glebe Island Bridge.
Glebe Island Bridge presents a paradox; originally designed to connect Rozelle and Pyrmont, the central swing span now stands permanently open, disconnected and isolated. This isolation sees the bridge take on the character of a deserted island, an industrial remnant forgotten in Sydney harbour. 'Glebe Bridge Island' seeks to acknowledge this new character and reclaim this island space for the public, transforming a disconnect into a destination. In providing access to this space, the project necessitates the restoration of the existing heritage bridge structure, protecting it for future generations.
The intervention is two part, a walkway and a stair. A light steel platform traces the turning circle of the bridge, providing access to the upper deck while maintaining the potential for the bridge to rotate in the future. A spiral stair clad in red expanded steel provides access to the lower deck, resurfaced in grated steel decking that allows views through to the floor structure below.
Glebe Bridge Island provides a new public space that allows the public to engage with the harbour as well as Sydney's built heritage in a new and unique context. The activation of the bridge island creates a new flexible community space with potential to host numerous outdoor events including gardening classes, harbourside yoga, historical tours, performances, fishing, engineering education, kayak mooring and more. Furthermore, it provides a new point of interest linking Pirrama Park and the Fish Market, encouraging the public to traverse the foreshore.