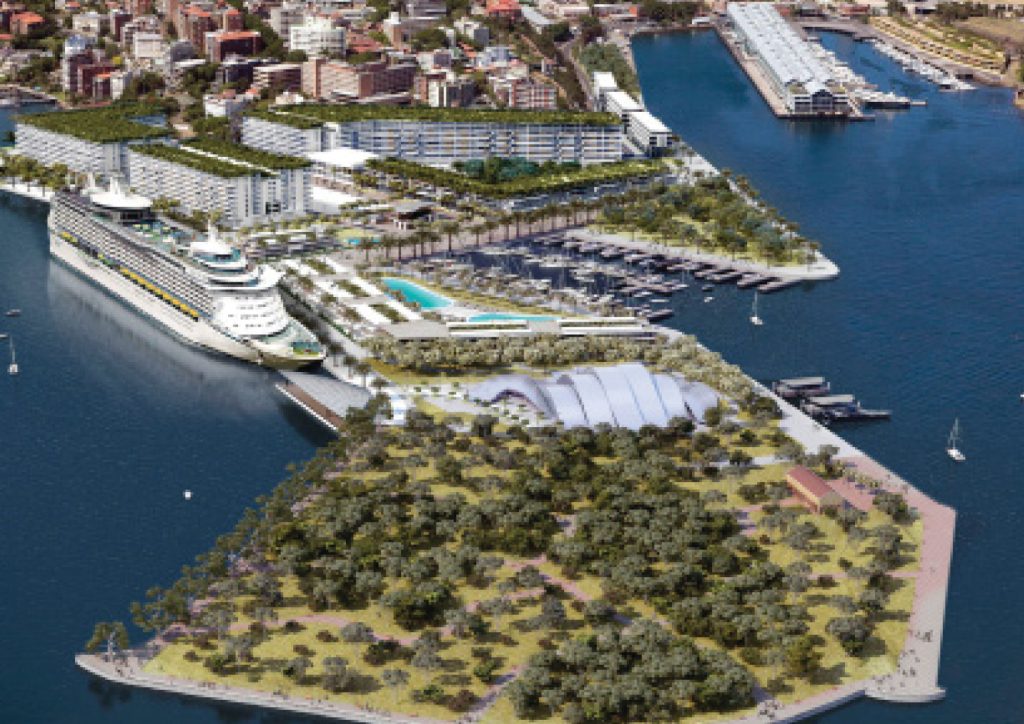 View Full screen
GARDEN ISLAND
David Vago
RE-LOCATION OF THE NAVY BASE TO FORM A NEW HARBOURFRONT HEADLAND PARK AND TOURIST PRECINCT
We propose:
A public park on the island headland with recreational facilities such as boardwalks, pontoons, playgrounds and picnic areas. Designed using previous naval history and physical features from the site's previous navy shipyards use.
A new marina and sailing club with public access.
New Ferry terminal servicing Woolloomooloo, Potts Point and the Botanic Gardens.
Public promenades / walkways and cycle paths around the entire island site linking in with the City CBD and Eastern suburbs.
Naval ships still allowed to dock alongside the precinct for visits to Sydney.
Large public building used as Naval / Sydney Harbour history museum and small base for visiting naval ships. Ships could become more accessible to the public for open days.
Commercial ground floor zones for shops, restaurants, bars and outdoor dining.
Dry dock converted into a recreational feature area for learn to sail classes, paddling and general recreation such as swimming. Controlled and safe 'shark-free' Harbour Environment.
Garden Island could present to be another incredible opportunity to activate more of our harbourfront and create another "green" headland adding to the scenic quality of the harbour. Situated close to the most dense suburb in Australia (Potts Point) Garden island has the potential to provide more valuable green open space for the local communIty and visitors.