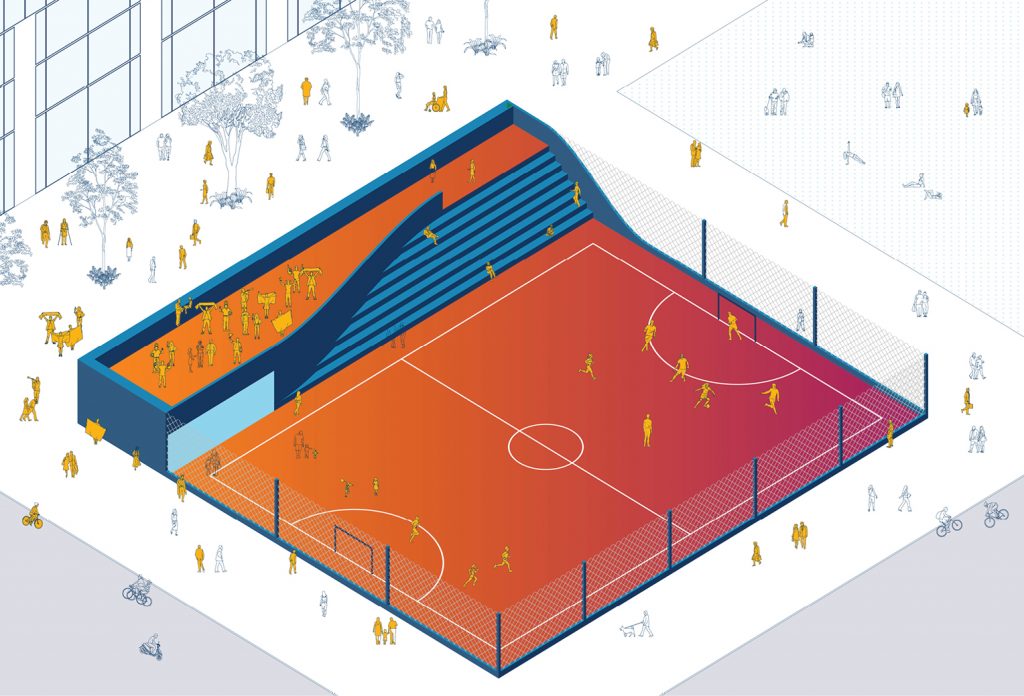 View Full screen
Football World Cup Hub
Xaever Mand
This idea is transformational, as it enables temporary urbanism to be scaled up across Sydney. Participation is made simple, without the prohibitive cost and construction methods. Any verge with sufficient width or vacant public space can become a place for the community to gather.
In August 2023 Australia and New Zealand will host the FIFA Women's World Cup. Sydney, set to host the final, is very likely to be the epicentre of the month-long sporting festival. With this sudden increase of people in our city, we must assess how we utilise public spaces both during and after the World Cup.
This submission proposes a system of deconstructable 5-a-side football pitches that double up as event zones spread across the city. During the World Cup, these are intended to be hives of activity, screening games, hosting meet and greets, selling merchandise and running workshops. Once the World Cup is over, some structures will remain in urban areas to facilitate post-work evening leagues and others relocated to the suburbs serving communities in need of sporting infrastructure.
As our city densifies, the desire for spaces for exercise and sport will be at a premium. Evident in other global cities is the burgeoning utilisation of 5-a-side and basketball courts as valued components of the public realm. The relevance of football to Sydney is apparent as more individuals are members of recreational football leagues than any other sport and in turn, the rising success of the Matildas continue to grow the sport's profile within the nation. This proposal seeks to harness the sporting fervour that will engulf the nation, utilising this enthusiasm to implement a lasting legacy, benefitting the greater public and opening the door for discussion of how to better utilise community-oriented sporting infrastructure within the public realm.