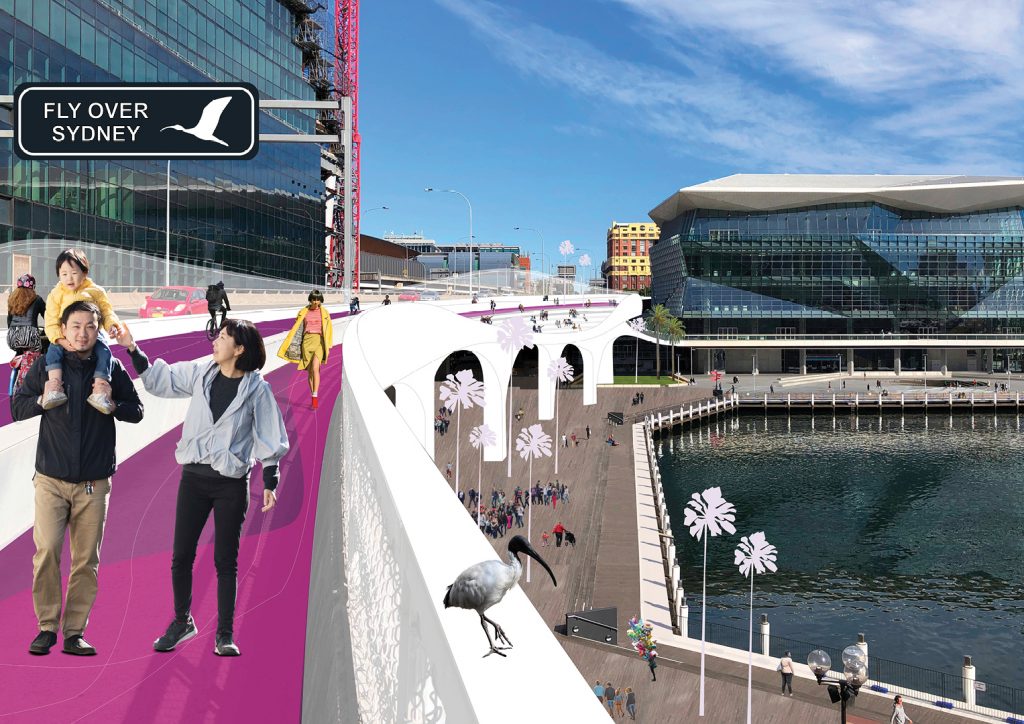 View Full screen
Flyover Sydney
Adrian Bonanni
Transform the underutilised walkway on the Western Distributor into a new Darling Harbour experience.
Darling Harbour is Sydney's waterfront playground. The Flyover will be an extension of Darling Harbour, elevated above, providing visitors with a new perspective of Cockle Bay and Barangaroo.
The Flyover transforms the existing northern walkway on the Western Distributor from being a narrow, unfriendly pedestrian path with poor accessibility into a generous and welcoming public space with improved connectivity between Pyrmont and Sydney's CBD.
The Flyover comprises a pedestrian path and a dedicated cycleway separated from vehicular movement by a protective barrier; a balcony with tiered seating projecting towards the bay; public art; landscaping; and new lifts and stairs.
The Flyover converts an east-bound lane on the Western Distributor into a space for pedestrians and cyclists. The Flyover requires fixing the balcony onto the northern edge of the motorway structure.
The Flyover upgrades the existing stairs at the intersection of Murry and Pyrmont Streets in Pyrmont, provides a connection to ICC Sydney's upper terrace and integrates with the redevelopment of Cockle Bay Wharf.
The Flyover extends the city's pedestrian and cycling network, strengthening ties between Pyrmont and Sydney's CBD.