Highly Commended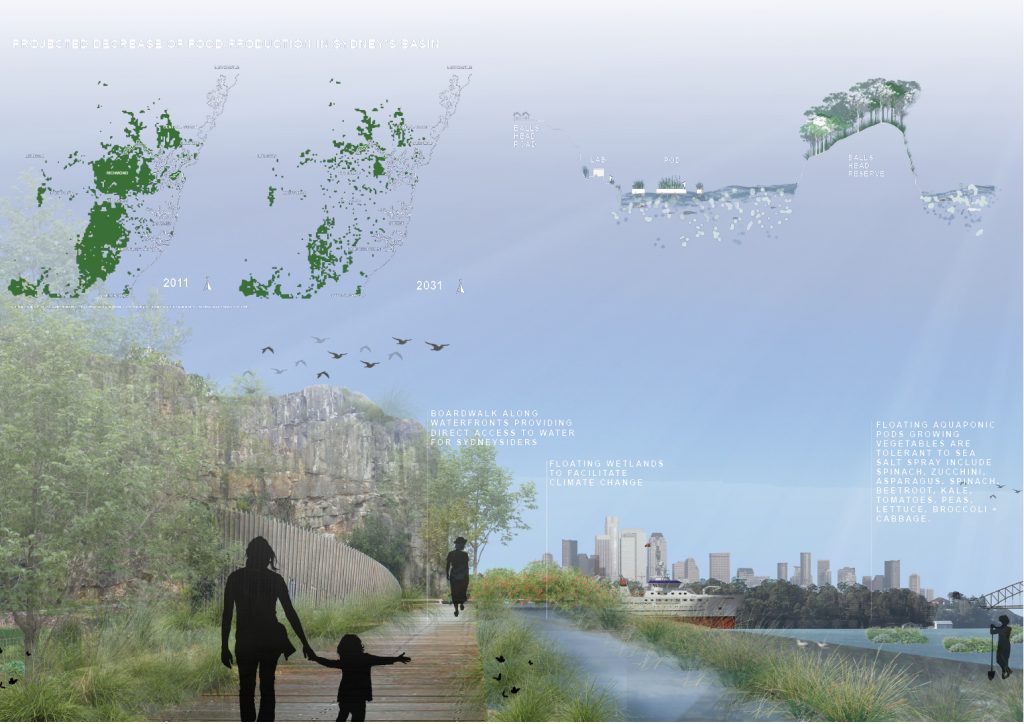 View Full screen
FLOAT
Isabel Peng, Sara Curukovska, Elnaz Talebi
Future Learning of Agricultural Techniques
SYDNEY'S FOOD SECURITY IS UNDER THREAT!
Unprecedented changes to our climate have threatened the resilience of our most valued crops. Yet, despite the ever-increasing importance to grow and supply food locally, competing priorities have resulted in Sydney's land to be favoured for development rather than agriculture.
Evidently, in the event where major transport routes into Sydney become disrupted, it "could leave Sydney with only days worth of fresh produce"! (UTS 'Sydney's Food Futures', 2016). Yet, unprecedented climate change is causing the sea level at Sydney to rise.
Despite being a contentious issue, the havoc it will cause may instead be a 'blessing in disguise'. Sea level rise will happen and will provide Sydney's coastal landscapes with the opportunity to adapt to create innovative alternatives for agriculture and farming.
Testing the waters for something great, 'FLOAT' aims to transform Sydney's coastal communities into dynamic centres for modern agriculture and farming. Using innovative technologies such as aquaponics, 'FLOAT' will secure Sydney's future food system by moving it to our next most accessible asset – the water!
'FLOAT' will do this by providing a network of public open space to farm, research, and engage with the local community on such an innovative alternative for agriculture and farming. It will also provide places for Sydneysiders to be healthy, socialise, learn, and gather for local farmer's markets.
Therefore, the time is now for Sydneysiders and our coastal communities to 'just go with the flow', and embrace climate change to create resilient, yet productive working waterfronts.