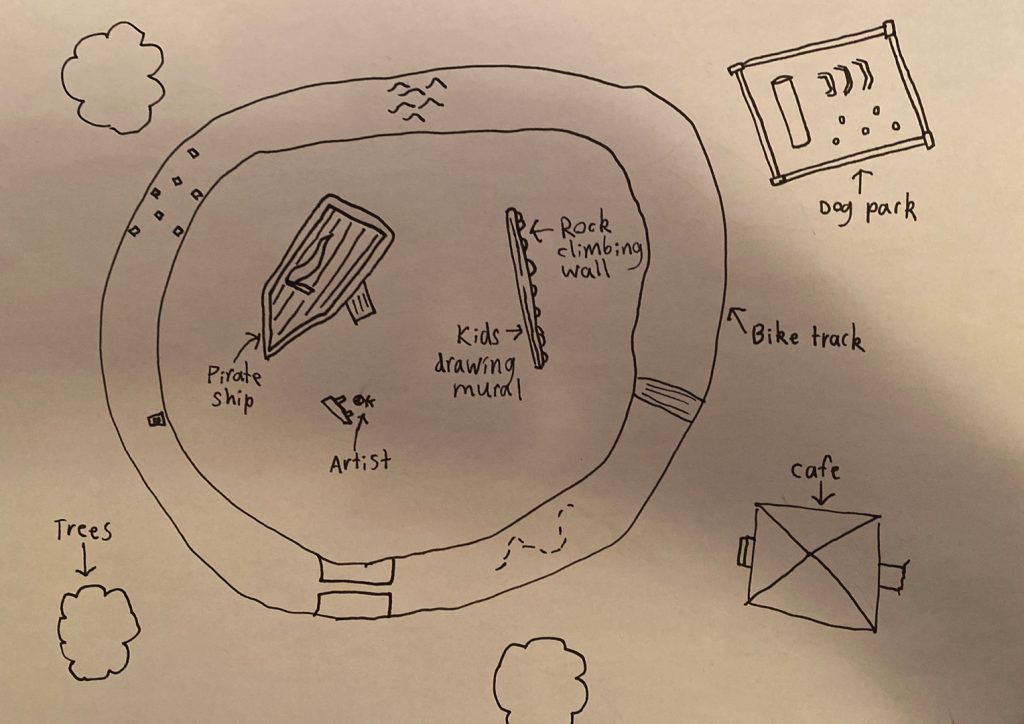 View Full screen
Family Fun Zone
Fintan Daly
Where families come together to create, play, eat and exercise all in the one place.
In my ideal public space, there would be a pirate ship for kids to explore and play in which would have ramps, ladders, hatches to climb through and ropes. In the park, there would also be a huge drawing wall with art supplies for kids to draw whatever they like. There would be special days where artists would be on site to teach kids different creative techniques. There would also be a bike track with speed bumps and traffic signs and a climbing wall. For the dogs, the park would include a fenced dog park with play equipment for dogs such as tunnels and jumps. For the whole family there would be an on-site cafe serving healthy food with a picnic area under shading trees.
This idea would create a better life for Sydneysiders because it would bring together lots of different things that you usually have to go to different places to do. This would make it easier for families to have fun together with lots of different activities to do.
My idea delivers great public space as there is something for everyone to do. There are things for kids, adults and pets. This would make it fun for the whole family.
The Family Fun Zone would be transformational as there are very few places where you can go to access all of these great activities. Lots of options means there are fewer people in each area, so everyone can social distance.