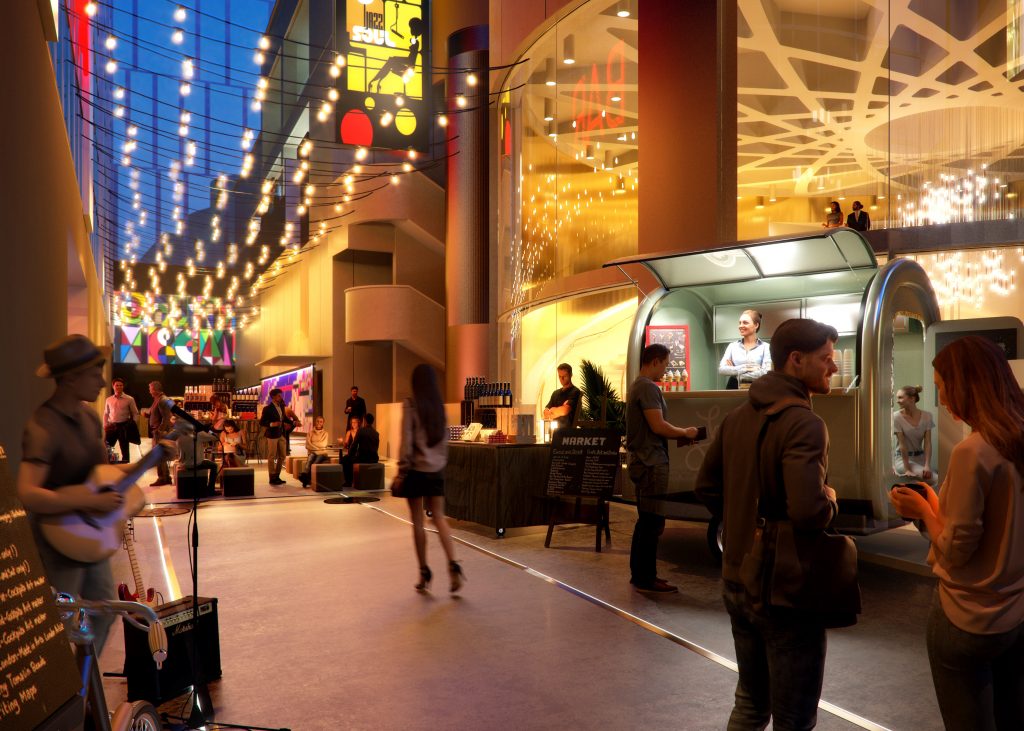 View Full screen
Enlivening a Sydney laneway
Amanda Pieriboni, Emma Russell, Mary Andriotakis, Clare Coleman
Laneway reimagination - Transforming Lees Court and Rowe Street experiences.
These forgotten laneways of Sydney are currently a smoker's haven and delivery zone. The MLC redevelopment will revitalise the public domain of Lees Court and Rowe Street, as well as the adjacent Theatre Royal, improving the art, architecture and heritage narrative, and restoring the civic destination as an engaging part of the fabric of Sydney.
We propose to build on this with several laneway installations to create destinational appeal, including permanent catenary lighting, dynamic and coloured lighting, multipurpose moveable market pop-ups, and infrastructure to allow the ongoing programming of the space. This will elevate Lees Court as an after-hours attraction, pulling pedestrian traffic, fostering a creative place and aligning with the dynamism of the theatre, whilst elevating the visual and cultural experience for locals, workers and visitors. It will also support the NSW Government's commitment to creating a vibrant and diverse night-time economy.
The low-cost catenary and light installations will be a permanent but changeable feature, and the moveable stalls can be managed to allow for a variety of operators or altered to suit themes inspired by the time of year, events or theatre performances. They will provide a variety of offerings from cocktails to desserts to theatre merchandise.
The City of Sydney's (CoS) bi-annual walking count reveals Martin Place receives an average of 40,000 people each day, whilst King St (at the corner of Lees Court) receives under 25,000. Activating the laneways will transform these underutilised streetscapes into a pedestrian thoroughfare and destination in support of CoS's laneways strategy.