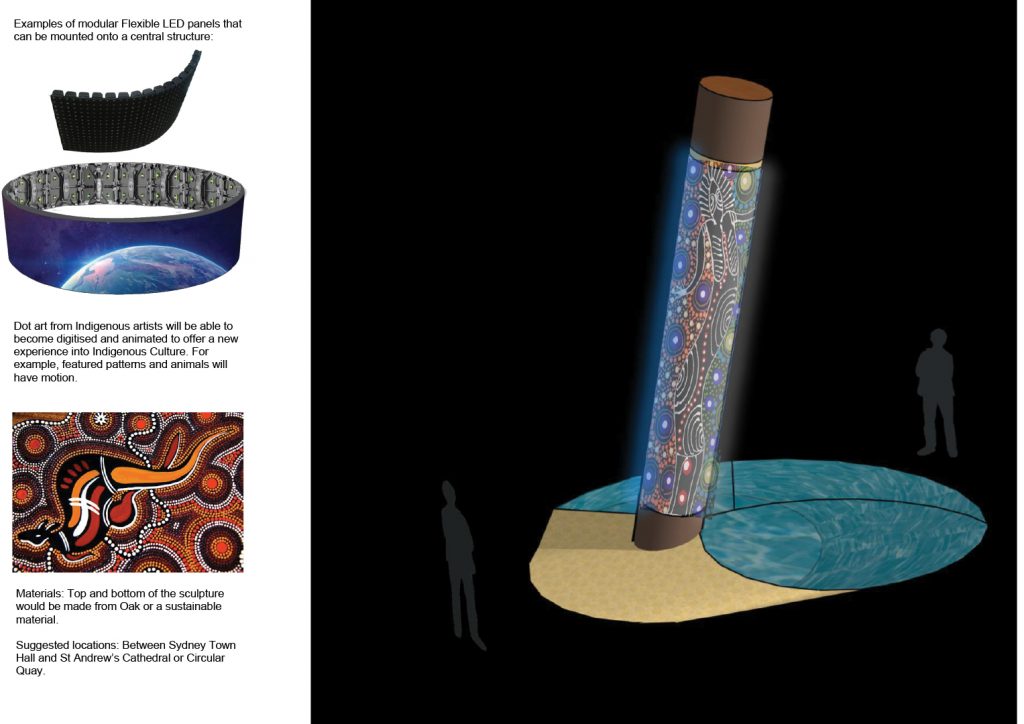 View Full screen
Didgeridoo
Robert Ventura
An icon of Indigenous Australia, the Didgeridoo encapsulates the sounds of our unique landscape and evokes the mystery of the Dreamtime.
The proposed living sculpture will display moving Indigenous dot art work, accompanied by sounds from a Didgeridoo to captivate audiences and convey Indigenous heritage in a never seen before experience.
The sculpture will play a vital civic role in teaching visitors and tourists to Sydney about the Indigenous culture and the unique sounds of the Australian landscape.
How it works
Curved LED screens illuminate (both day and night) moving Aboriginal dot art in conjunction with sounds of the Didgeridoo to convey stories in a never before seen experience.
Due to the sculpture being digital, featured moving dot art work can be constantly uploaded by Indigenous artists, allowing the sculpture to act as a living library of Indigenous stories and Dreamtimes.
A pool of water surrounds the sculpture playing homage to Sydney Harbour and also plays a functional role in reflecting the colours from the screens to enhance the experience at night.
The proposed idea delivers on the principles that make great public spaces, transforms the way we understand our Australian heritage and reminds us of our role in passing on a better world to future generations.