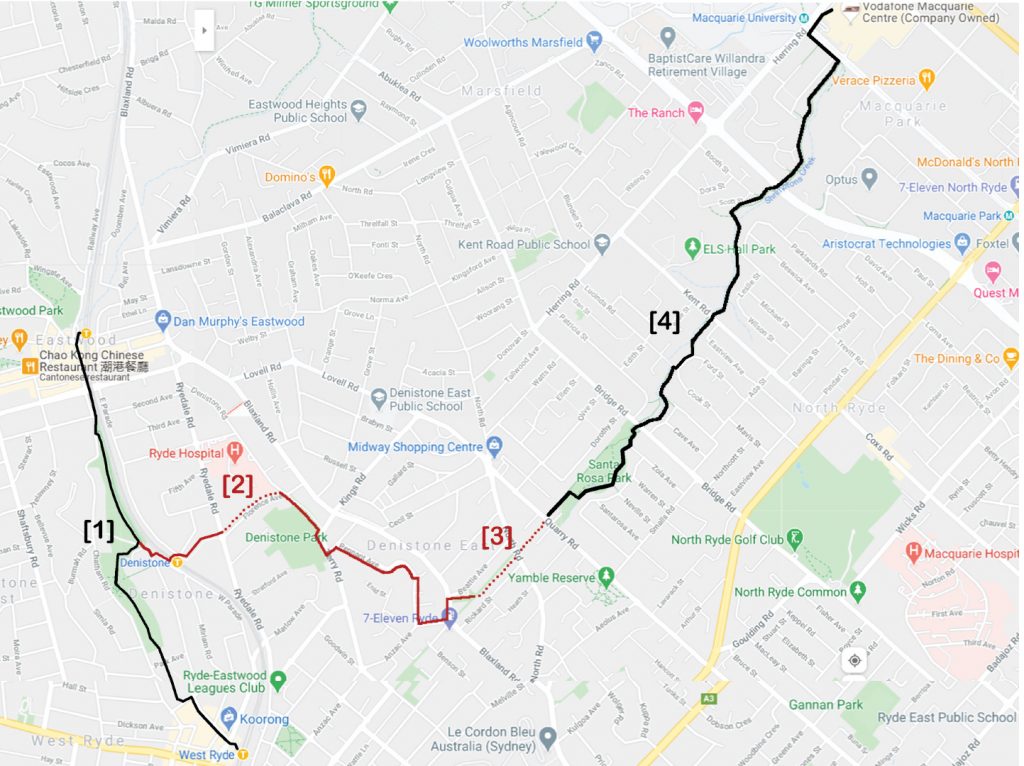 View Full screen
Denistone to Macquarie Park 8km Recreational Walking Route
Leigh Shearer-Heriot
To create walking links on currently inaccessible public land between two separate local walks
This proposal links two separate local walks – the Eastwood to West Ryde bush corridor through Darvall Park, see map [1], and the Shrimptons Creek walk from Macquarie Park to Quarry Rd, Ryde [4].
This is achieved by creating linking walking routes through currently inaccessible public land i.e.
* creating a bush track through Ryde Hospital grounds bushland [2], paralleling Florence Ave and
* providing access through two locked Sydney Water easements [3], Beattie Park to North Rd, and North Rd to Quarry Rd – open, mowed, green corridor land with minimal above-ground infrastructure.
ADDITIONAL
Improved pedestrian access across Blaxland Rd at Beattie Park between opposing stops would also benefit local bus commuters.
TRANSFORMATIONAL IDEA
The proposal links parklands previously isolated from each other.
DELIVERS GREAT PUBLIC SPACE
This proposal provides a continuous, 8 km, green-space recreational urban walking route.
A BETTER LIFE FOR SYDNEYSIDERS
Opens parklands to a wider community beyond just those adjacent, accessible at each end by major public transport. ie. Eastwood/Denistone/West Ryde railway stations, and Macquarie University station and Macquarie Centre bus interchange. The walk offers panoramic views over the Parramatta River valley and takes in The Hermitage, heritage-listed house of John Blaxland, son of Gregory Blaxland of Blue Mountains fame, and the historic Edwardian-style house, Wollondilly.