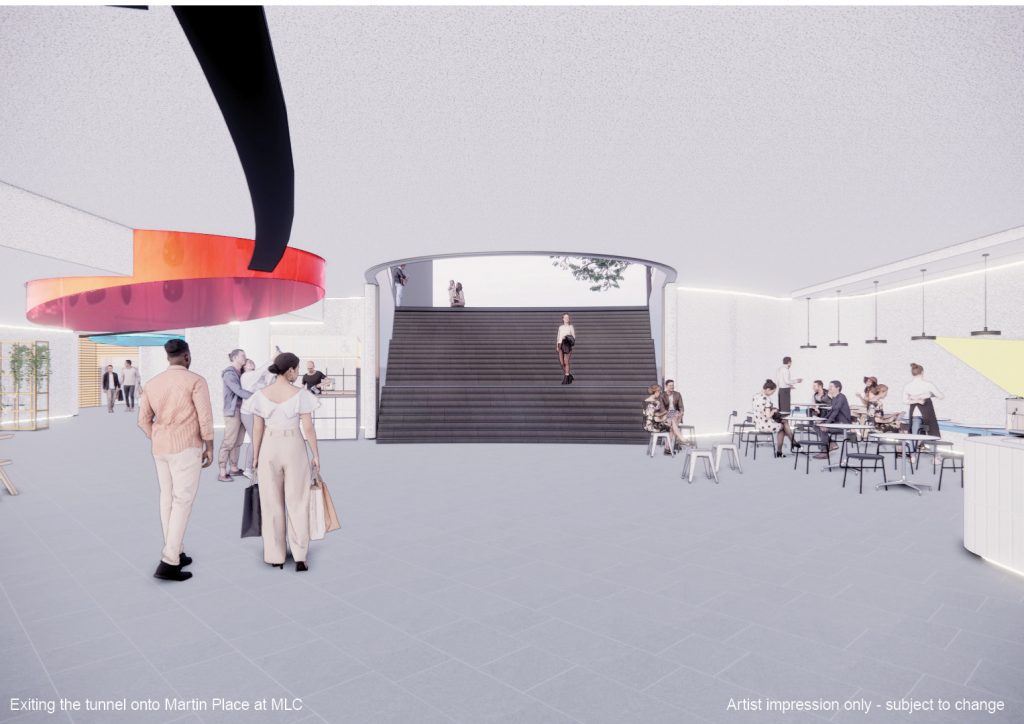 View Full screen
Curating the commuter experience
Amanda Pieriboni, Emma Russell, Mary Andriotakis, Clare Coleman
Reimagining the Martin Place tunnel into a contemporary commuter experience for our community.
Martin Place is a major transport interchange for commuters, visitors and tourists, with the new metro opening in 2024 and MLC being redeveloped adjacent to the site. The current subterranean experience is dated, underwhelming and not in line with Martin Place being the heart of the Sydney CBD. Re-purposing and enhancing the experience of the tunnel can serve many purposes.
We propose a full aesthetic refurbishment with a retail activation to enhance its use as a contemporary public space, rather than solely being used as a functional connection. This will create a place for visitors to experience the vibrancy of Sydney from the moment they arrive in the precinct and provide an elevated experience for the subterranean Martin Place journey, improving the experience for the CBD community. The existing tunnel contains underutilised space which is easily accessible and there is approximately 30 lineal metres worth of blank walls to curate contemporary art, space that is highly sought after in Sydney for emerging artists.
There is also an opportunity for historical narrative, interpreted through plaques and lighting. The refurbishment of the tunnel will provide additional retail, alongside an improved entry experience. The tunnel presents the perfect opportunity to showcase art, performances and historical reference, creating a place of cultural significance where people feel safe and connected to the city. The refurbishment will complement the Martin Place precinct and will enliven the area, drawing people into the CBD via our public transport system, and allowing Sydney-siders and visitors to form a cultural connection.