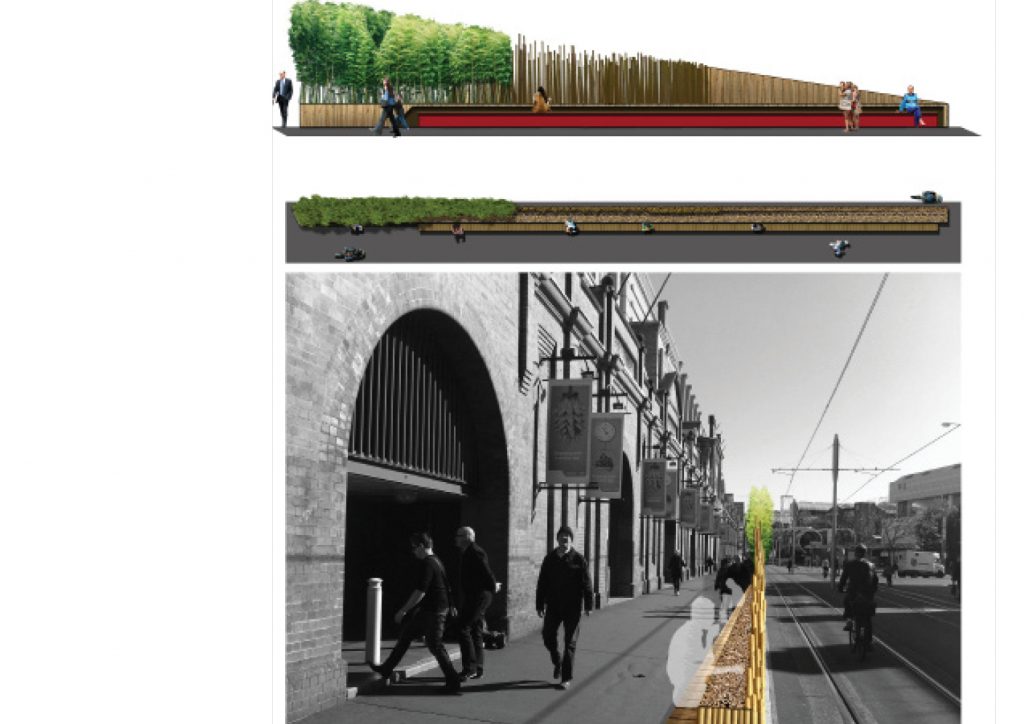 View Full screen
CULM IN-ATE
David Vago
Pop Up Lunch and Dinner Bar
With Covid-19 restrictions being part of our everyday life, creating opportunities to eat and drink outside in the public domain will become more valuable and desirable. Surrounded by food, Hay Street, Chinatown affords few opportunities to sit down, digest and watch the city passing by. CULM IN ATE allows for such an experience within the central business district of Sydney and seeks to interact with, inspire and engage the people that discover it. In a city that boasts one of the most outstanding
climates in the world, CULM IN ATE highlights a general lack of 'free' public outdoor eating
infrastructure particularly around Chinatown and Paddy's Market. Stretching fifteen metres along Hay Street, a dining bench constructed of bamboo in varying states of growth and manufacture, affords a new engagement with the city and a culmination of culture, food, landscape and the pedestrians that
flow past. Bamboo is one of the most sustainable building materials on the planet. CULM IN ATE explores the growing environmental concern regarding mass production and the overuse of non-renewable polluting materials within the furniture and food packaging industry. The CULM IN ATE bench is a contemporary, sustainable, robust and linear reference to a universal manufacturing approach displaying the construction benefit and horticultural validity of bamboo.