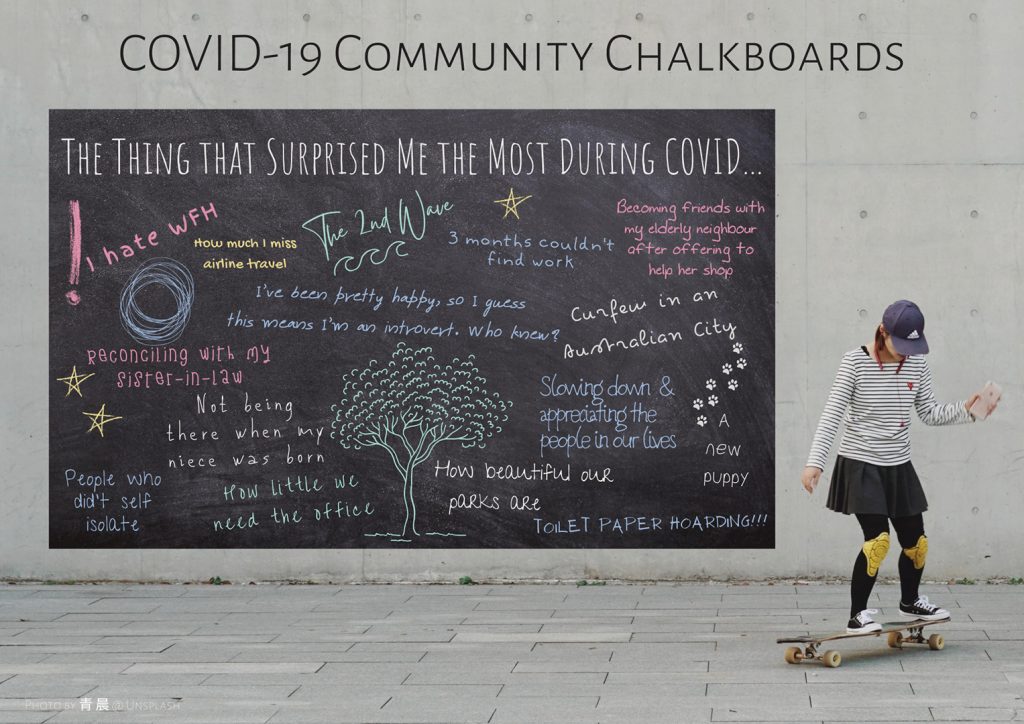 View Full screen
COVID-19 Community Chalkboards
Alexandra Jucovic
Using public space to share community responses to COVID-19
In 2009, Candy Chang created a chalkboard on the side of an abandoned building in her neighbourhood in New Orleans. She wrote the prompt "Before I die I want to…". Overnight it filled with contributions from passing neighbours. "Before I die I want to… hold her one more time, make a liveable wage, see my daughter graduate…" Chang's project was copied around the world. Other communities have used prompts such as: "Where was the last place you felt fantastic?", "I stir things up by…", "I will change the world by…" and even "Your fears erased here daily."
Dramatic events and increased social isolation require new means of community expression and connection. Pavement chalkboard drawing has already become a cultural symbol of 2020. "During COVID…" community chalkboards would use public spaces to share local responses to the recent changes in the world around us.
Prompts could include:
– During COVID it made me sad that…
– During COVID I'm grateful for…
– During COVID I miss…
– The change I want to keep from this time is…
All that's needed is a blank wall, chalkboard paint, and a bucket of chalk.