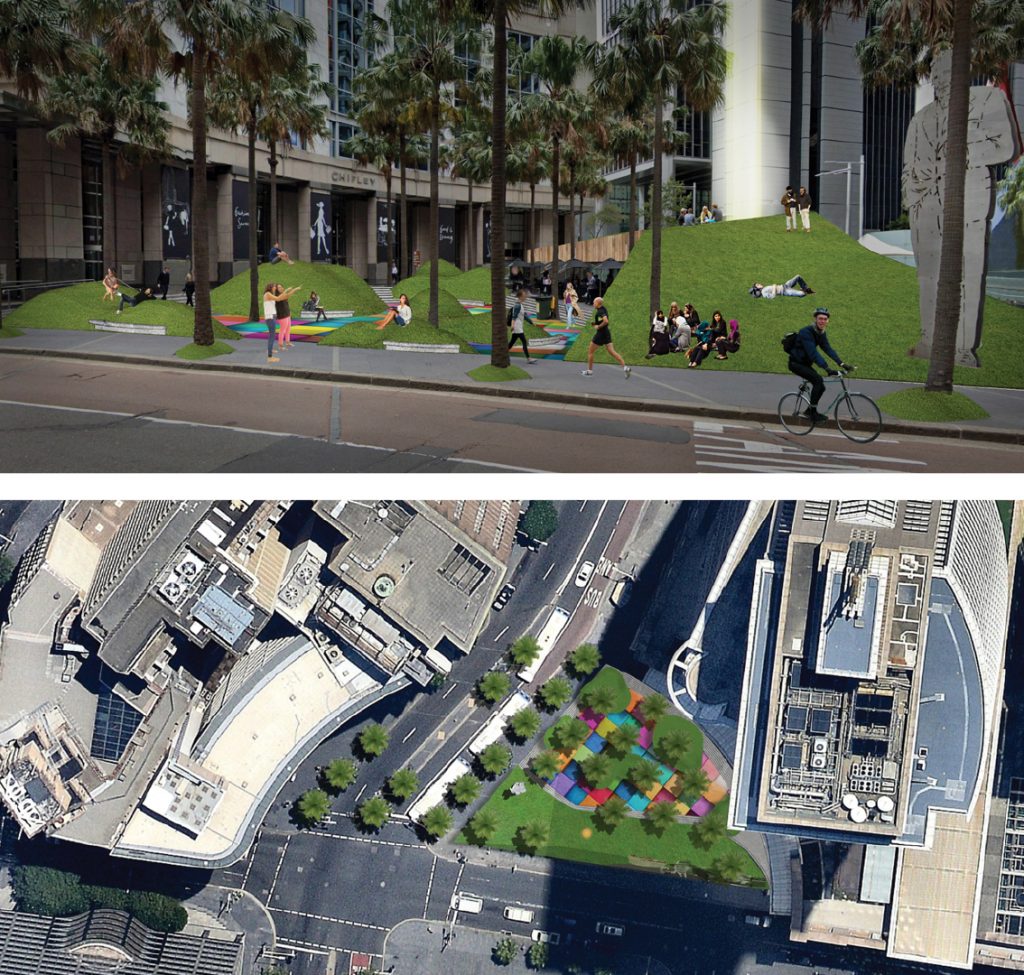 View Full screen
Chifley Plaza
Jessica Bainbridge, Matt Nix, Dennis Diaz & Katherine Day
A better space for Sydney
How do you turn an unloved public space in the heart of a busy city into a desirable green plaza that brings creativity, colour, and social-distancing to Sydney-siders?
Chifley Plaza is an unremarkable space, transited by city workers travelling to offices and food outlets, engulfed by traffic pollution and gusting winds. Curio presents an opportunity to turn this under-utilised bland plaza into an inviting space to be, eat, ponder, and play, day or night.
Inspired by the undulating slopes and low hills of the Sydney basin, and the unmistakable architectural curves surrounding the plaza, we've created a series of mounds, differing in colour, size, and elevation allowing for relaxation, in, around and under.
Formed from a diversity of materials including grass, wood, and sandstone, and designed to minimise wind, the mounds manipulate the biting breeze over and above each formation, in addition to dampening the Elizabeth Street traffic noise.
Positioned to provide safe social distancing, the formation suits the needs of individuals, groups or families offering respite from city crowds in a safe and fun multiuse environment.
Ben Chifley's statue relocated at the base of the rolling hill references his famous 'The Light on the Hill' speech which talks of bringing something better to the people. The top of this hill emits a beacon of light illuminating his address and highlighting the plaza in the evening.
On the doorstep of one of Sydney's most luxurious business and retail precincts, mere metres from Sydney Metro, our concept reinvigorates unused space for Sydney-siders.