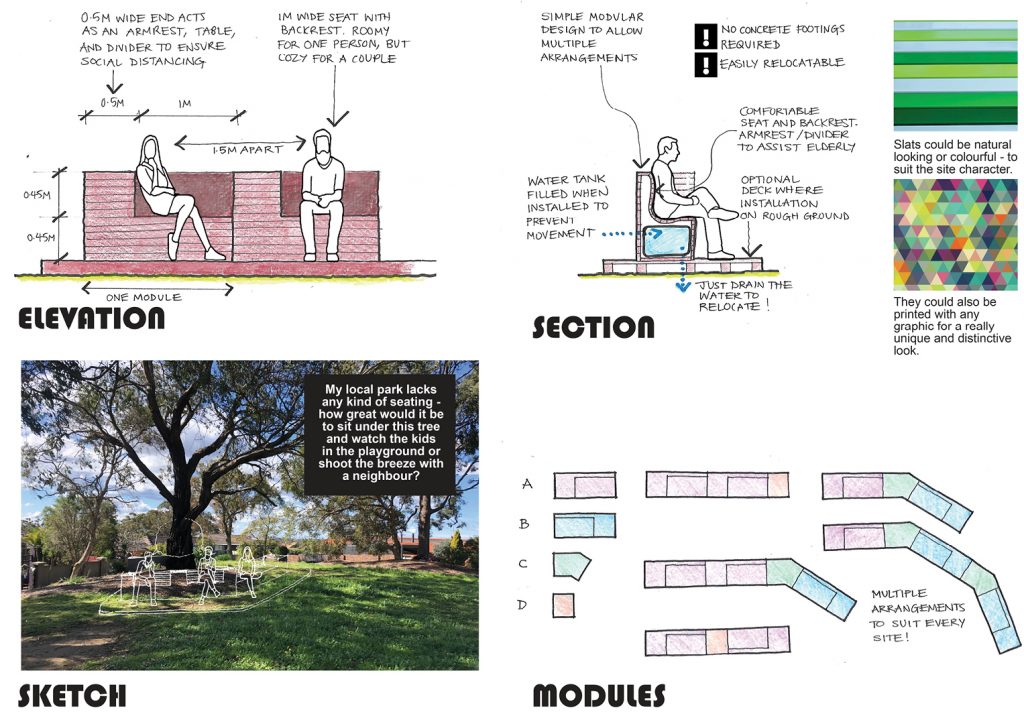 View Full screen
Chatterpod
Jo Blackmore, Belinda Dods, Jake Blackmore
A new seating system that facilitates social interaction in an inclusive, safe and sustainable way.
The recent lockdown has highlighted how important social interaction is, and our open spaces should be doing everything possible to encourage this. Traditional benches do not facilitate conversation – even pre-pandemic sharing was not popular! The Chatterpod idea is to create a series of modular seating elements. It would sit people far enough apart to feel safe and comfortable, but close enough to have a conversation if they want to.
How will this project create a better life for Sydneysiders?
Loneliness and social isolation are real problems in our society, particularly for the elderly. A Chatterpod can simply be retrofitted into any existing park, significantly increasing value to the local community. They have been designed to be comfortable and accessible, with a back and armrests to assist the less able-bodied.
How does this project deliver great public space?
Many smaller local parks lack activation – a well located Chatterpod could alleviate this. Sustainably constructed from recycled plastic and being modular in nature makes them low maintenance and cost-effective to produce, but also allows customization through colour. They can be located anywhere (even under trees) and the best arrangement chosen to suit the site.
How is this idea transformational?
Chatterpods are easily relocatable due to their innovative water tank footing system. This means a Council could try them out in different spaces and different locations to gauge their success. It could be funded through a Government grant scheme in partnership with a soft plastic recycling company and furniture manufacturer.