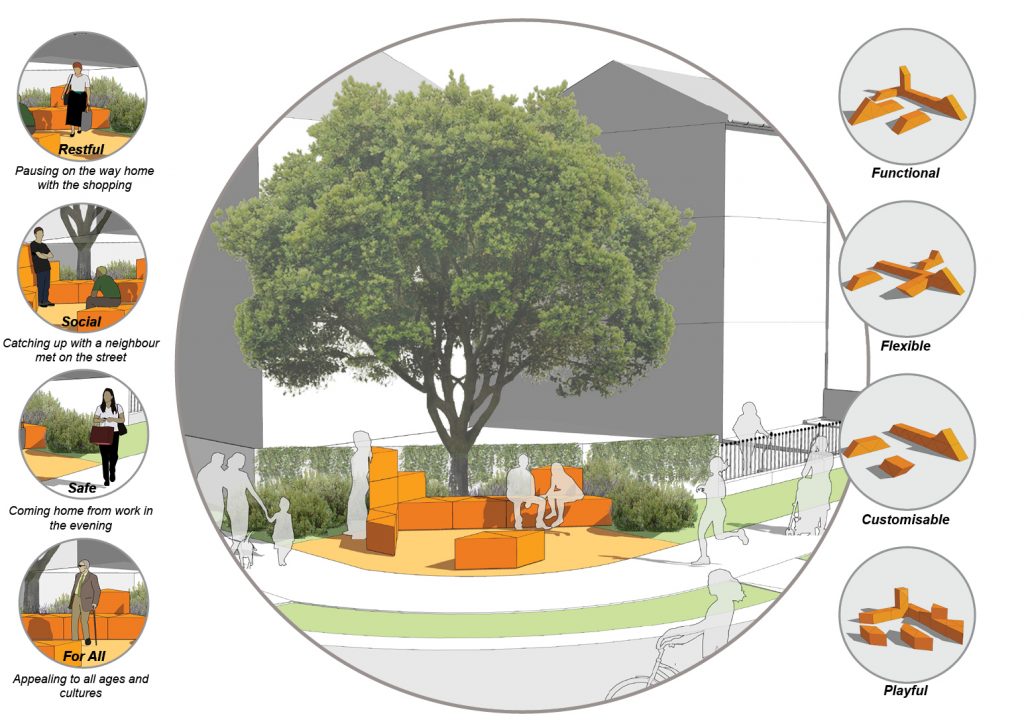 View Full screen
ChatStop
Crosbie Lorimer, Chak Chan, Joshua Harold, Cilla Jiao, Martin O'Dea, Jessica Tang, Katherine Webster
Step off the path well-travelled
Drawing on the inspiring story of the highly successful Zimbabwean 'Friendship Benches', ChatStop expands the concept to take in those daily occasions when we're out and about.
It's a pocket landscape as small as 7m2 where you can step off the well-trodden path for a moment, rest, chat, or just take in the day.
ChatStops can be inserted anywhere in our existing public realm; at a residential street corner, beside the local shops, outside the school gate or in a forgotten nook in our densest inner cities.
Triangular modular seating and leaning elements are arranged in numerous configurations. They are fabricated from recycled materials – timber, plastic, recycled coffee husks, your choice. Accompanied by a small tree for shade, some simple shrub planting and a recycled gravel or paved surface, ChatStop is sustainable and affordable.
Each ChatStop has its own character. The local community decides on the seating elements and arrangements, chooses the plants, selects the colours and perhaps inscribes the seating with a locally important story.
Costing as little as $2,000-3,000 all up, local Councils can reasonably roll out a suite of ChatStops in any neighbourhood. And if funding is an issue, local businesses can sponsor a ChatStop. Better still, its' simple design makes a community build entirely do-able.
No WiFi hotspot or recharging stations needed here, ChatStop simply invites us to take a few moments from our busy day to stop, draw breath and engage with the world and those around us.