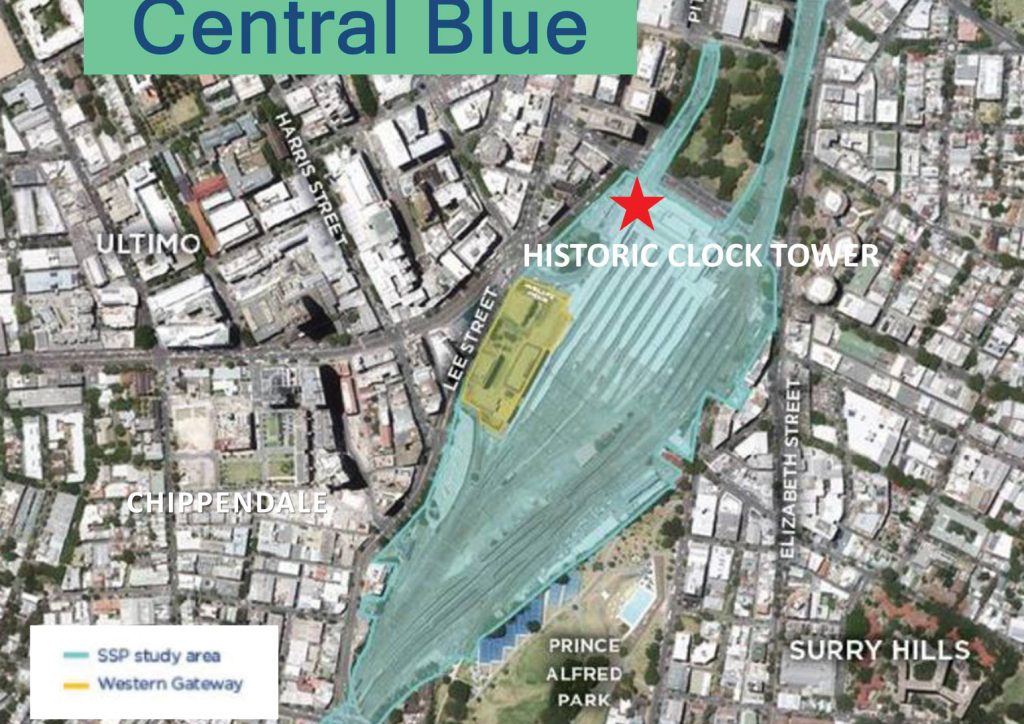 View Full screen
Central Blue
Jeanette Brokman
A network of blue and green vistas
Sydney's historic Central Station and its surrounds are proposed to become Sydney's new Hudson Yards, with the redevelopment over Sydney's Rail Yards. Extending from Goulburn Street in the north to Cleveland Street in the south, the 24 hectare precinct is a once in a lifetime opportunity.
With plans for the Western Gateway Sub-precinct on the western edge along Lee Street (aka Tech Central) well underway, the draft strategic vision for the remainder of Central's State Significant Precinct (SSP) is still to be agreed, with plans open for consideration.
To this end, it is proposed a network of blue and green 'streets' enable the public realm across the SSP which highlight existing vistas to Central Station's famous Clock Tower and key sites, such as Chippendale's historic Mortuary Station. In addition, the opportunity to expand Belmore Park to the north by demolishing Goulburn Street Car Park would help accommodate the City's growth and footprint expansion, as well as providing much needed public domain away from the harbour.
With its 'blue streets' facilitated by recycled water along man-made ' rivers' that act as streets, adjoining green linear parks would enhance the public domain, offering an exceptional opportunity for the introduction of major public space initiatives.