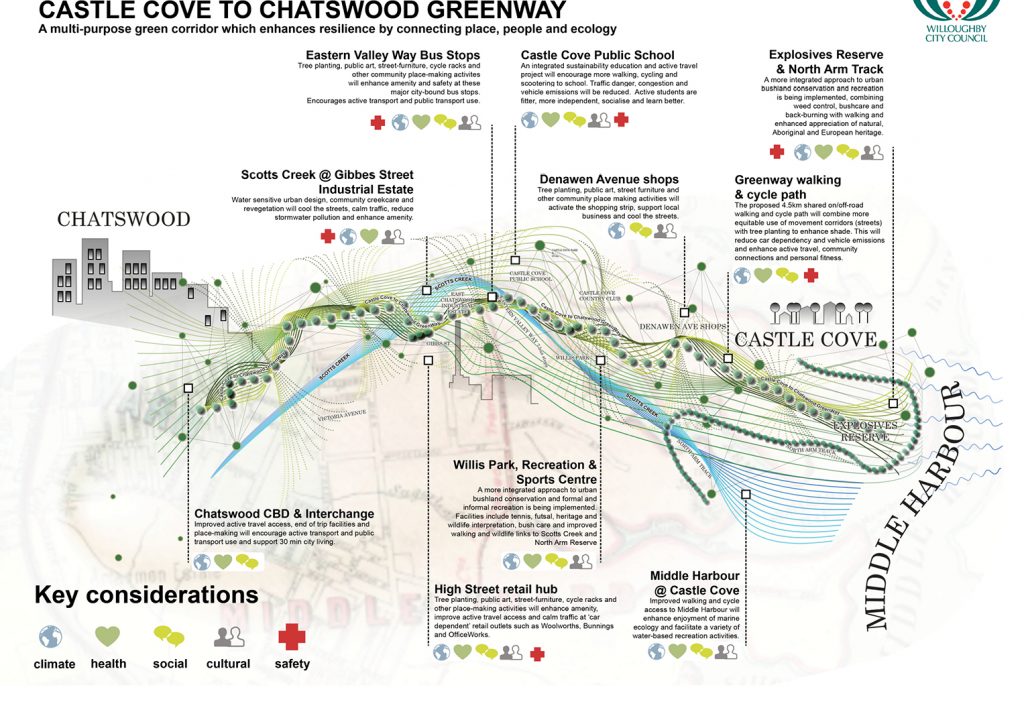 View Full screen
Castle Cove to Chatswood Greenway
Nick Chapman, Norma Shankie-Williams & Wil Robertson
A multi-purpose urban green corridor which enhances resilience by connecting place, people and ecology
The proposed 4.5 km Greenway will be a transformational, multi-purpose green corridor serving Sydney's Lower North Shore. Responding to the shift in living, work and travel patterns caused by COVID19, it will facilitate '30 minute living' for thousands of people every day.
Enhancing city resilience and attachment to place is at the heart of this proposal. It integrates climate, health, social, safety and cultural outcomes in measurable ways and is a best practice example of the Greater Sydney Commission's Green Grid.
This transformational concept delivers high quality, integrated public spaces offering multiple benefits:-
Climate & ecology
Construction of a 4.5km shared path from Castle Cove to Chatswood. Benefits:- reduced car dependency and emissions; traffic calming, street activation, road safety.
Bush conservation (including fuel reduction) at reserves along Castle Cove peninsular and revegetation along the shared path and adjacent open spaces. Benefits:- enhanced urban biodiversity, urban cooling, bush fire mitigation.
Water sensitive urban design at Scotts Creek. Benefits:- enhanced waterways health, urban cooling.
Social & health
Active travel project at Castle Cove Public School. Benefits:- fitter, more socialised, independent, 'climate aware' students; community connections, road safety.
Enhanced active and passive recreation facilities eg Willis Park, Recreation and Sports Centre, North Arm walking tracks. Benefits:- enhanced fitness and social cohesion.
Cultural & economic
Placemaking at 'pause points' eg Denawen Rd shops, Eastern Valley Way bus interchange. Benefits:- activation, local business stimulus, amenity improvements.
Aboriginal, European and environmental heritage interpretation at reserves. 'pause points' and tracks. Benefits:- social inclusion, community connections, cultural awareness