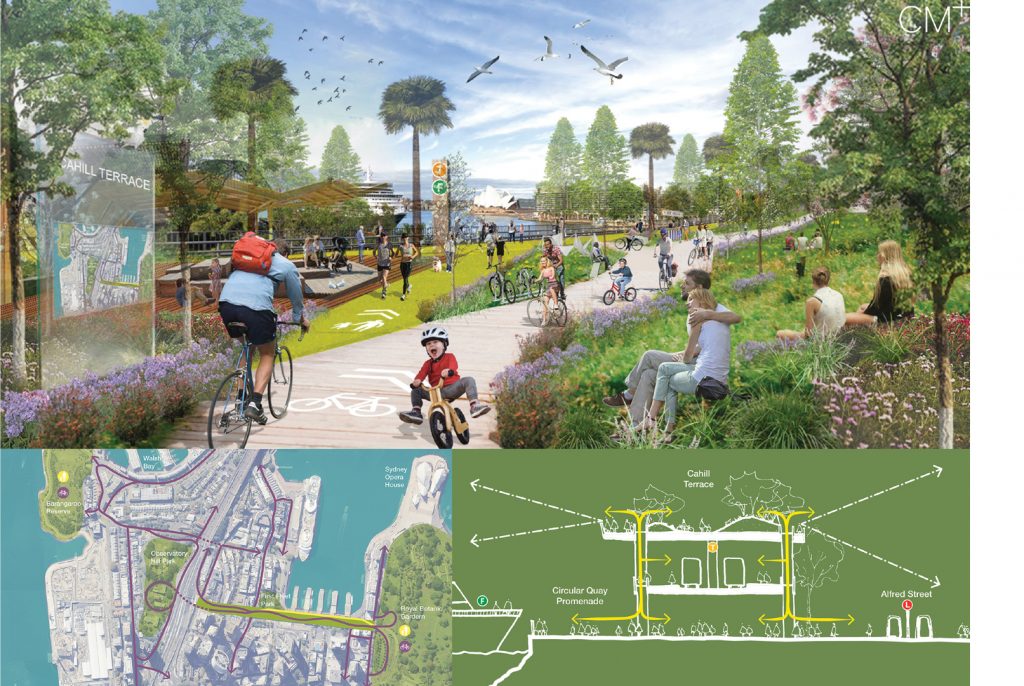 View Full screen
Cahill Terrace
Richard Nugent, Jing Li & Di Wu
A reimagined piece of infrastructure becomes a green gateway to Sydney.
The Cahill Expressway structure has long been a key part of Sydney's infrastructure.
It provided a vital link in the motorway system connecting the bridge to the region. It supports Circular Quay Railway Station, a key station in the City Circle Line with direct connections to the ferry network. With the opening of the Harbour Tunnel and anticipated Western Harbour Tunnel, the expressway itself has become less of essential infrastructure and more of a placemaking opportunity.
It holds a strategic location between the Botanic Gardens, and their relationship to the Opera House, and the Observatory, with its relationship to Darling Harbour and the western waterfront. It connects Bennelong Point to Barangaroo. It forms a gateway from the city to the harbour. What if this element could be a place for people instead of a place for traffic?
The Cahill Terrace reimagines this piece
of infrastructure as a great overlook, with landscape walking promenades and a cycleway allowing people to occupy this high ground at the gateway to the city. This change will also allow Circular Quay Station to be reimagined as the foyer to this new public space with green walls better access and stronger placemaking outcomes. The railway station can offer access directly up to the promenade as well as down to the ferry forecourt at Circular Quay.
This transformation means that the infrastructure is effectively being recycled in place to create 1.2 hectares of new 'urban forest' in a crowded part of the city.