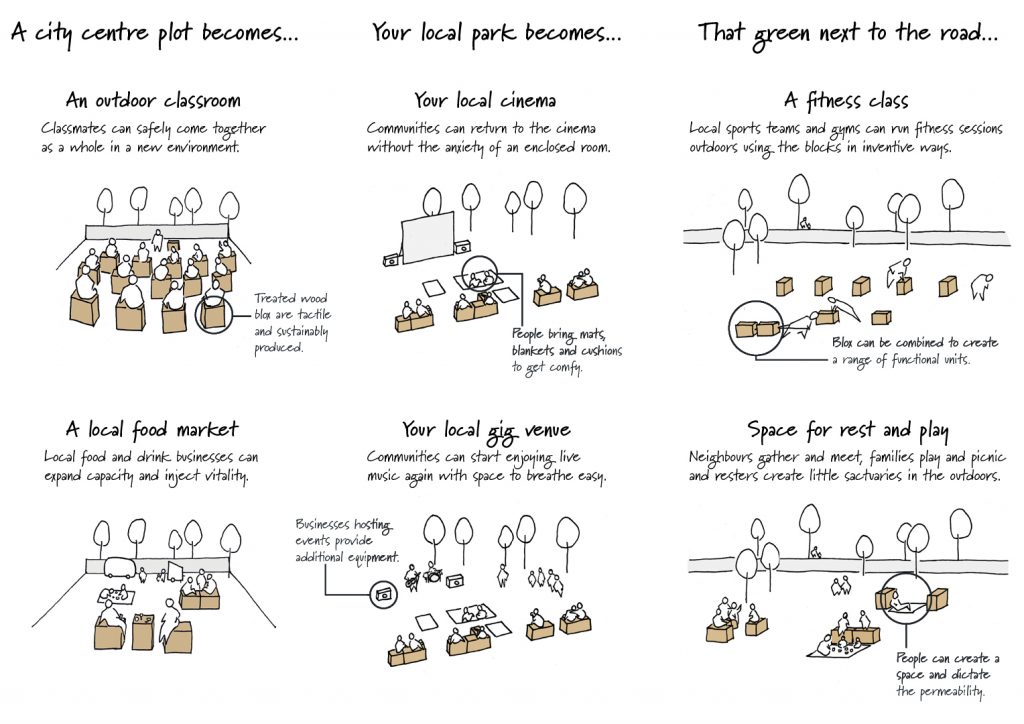 View Full screen
Building Blox
Natalie Mortlock
A temporary solution that facilitates community takeovers of under-utilised public space.
Thanks to the restrictions imposed in the fight against Covid-19, urban communities desperate for space have been reclaiming under-utilised areas in their public realm. They have reignited these public spaces as social and active places in which to enact public life. As we start to rebuild in our peri-pandemic context, it is vital to provide for this community-born activity to ensure that our public spaces cater to evolving neighbourhood needs and avoid future redundancy.
Introducing "blox" into public spaces will allow residents and local businesses to occupy and curate spaces to meet their needs. As low-cost modular units that can be stacked and combined as desired, blox can transform a disused city centre plot into an outdoor classroom or a clearing in a park into a gig venue. By moving these third places outside, capacity is increased for social, physical and economic activity in a flexible way. This activity is vital for the mental well-being of communities and the social and economic viability of neighbourhoods. When not in use for a formal event, people can combine blox to create their own modular forms for play and rest. Spaces could be managed centrally by local government or grants and permits offered to community groups wishing to purchase the blox and administer the space themselves. As a temporary measure, blox can be introduced and relocated at minimal cost to make way for permanent solutions or combined with permanent fixtures to maintain a level of flexibility in the space and guard against monofunctionality.