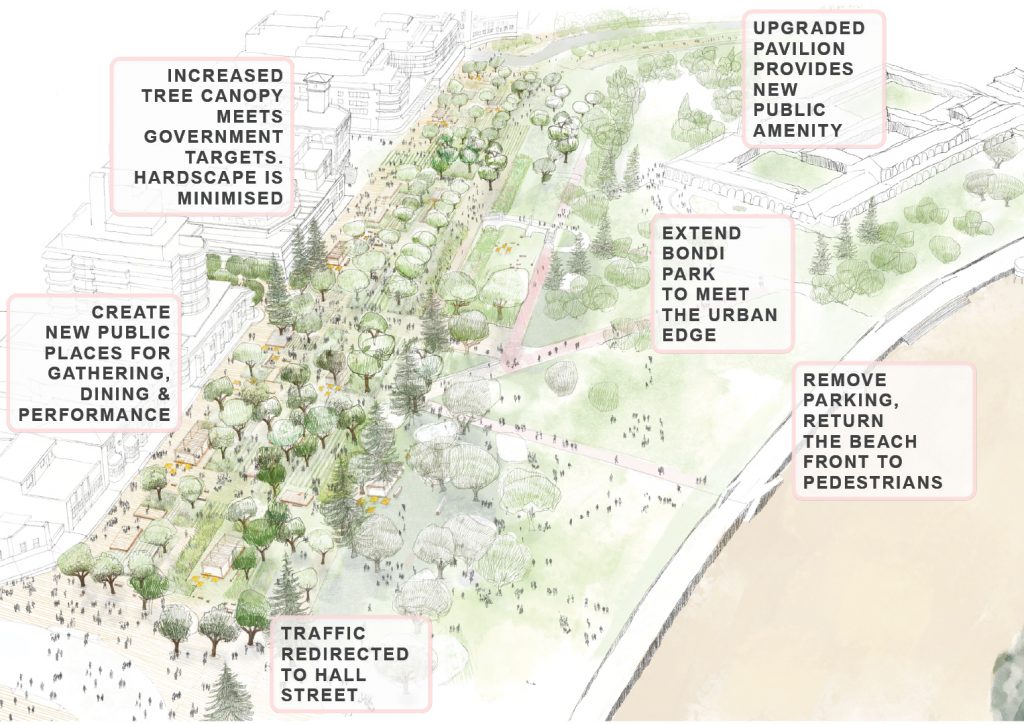 View Full screen
Bondi Rescue
Jessica Hodge & Keegan Lovell
Campbell Parade becomes a new park to connect Bondi's urban edge, to the Beach.
Campbell Parade provides the street address to the world-famous Bondi Beach. It is the place where Urban Sydney meets the Coast.
Bondi Beach attracts over 2.9 million local and international visitors every year, yet the public space that adjoins it is dominated by hardscape, lacks trees, has poor public amenity and is choked with traffic. The traffic is self-generating. Vehicles are stuck in an endless loop searching for parking – creating a hostile environment for pedestrians and cyclists. The street, historically designed to be a connector, severs the flow of pedestrians to the beach and ultimately results in a public experience that is uncomfortable, uninhabitable and unsustainable.
By reimagining the role of the street there is great ability to enliven the social, economic and environmental vitality of Bondi and its surrounds.
To achieve this, Campbell Parade is closed to traffic between Hall Street and Beach Road. The park is extended to the shops to create a truly democratic pedestrian and cycle-centric public space. The street will be returned as a platform for the theatre of life. People dine, gather and perform in a realm that is not designated by cars or zones paid for by businesses. Planting replaces asphalt, trees replace barriers. People occupy the park, beach and sea.
This bold transformation of one of Sydney's most important streets will establish Bondi as truly a unique place. A place to remember and revisit.