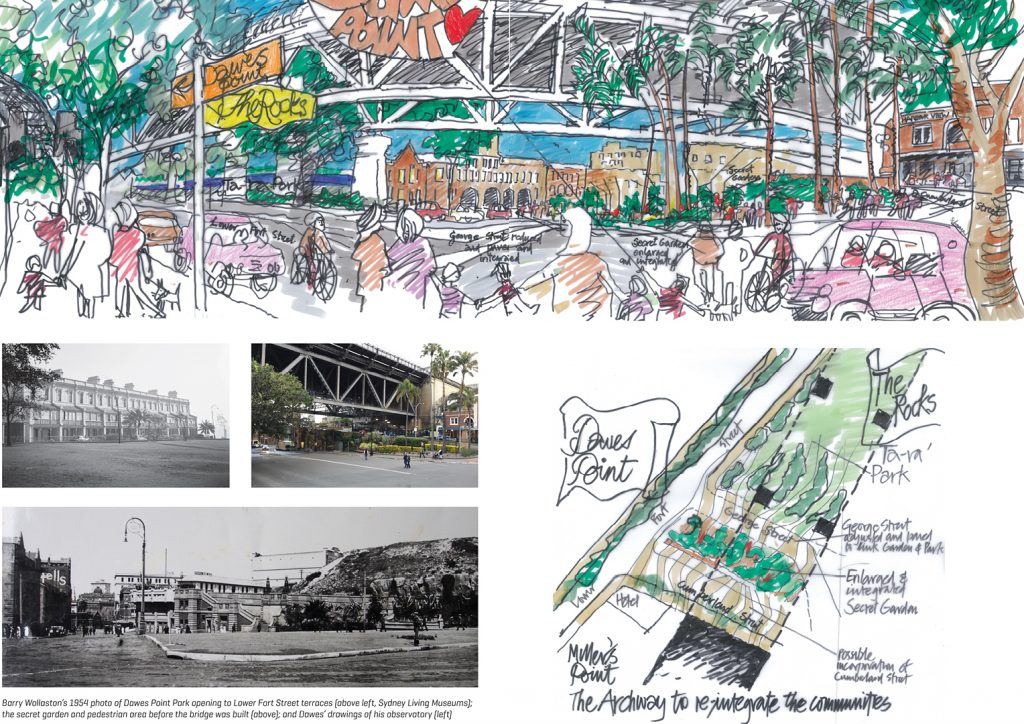 View Full screen
Archway
John Dunn, Anne Warr & Tim Schwager
Connecting Dawes Point and The Rocks and Celebrating William Dawes and Patyegarang
George Street, the first street of Sydney, once ended at Dawes' observatory, a safe and welcoming place for Aboriginal and English people to share knowledge and friendship, where Dawes and Patyegarang recorded indigenous language and customs.
More than a century later George Street terminates beneath the Harbour Bridge, forming the Archway that links The Rocks and Dawes Point, and signalling the entrance to Dawes Point and its unique heritage and stories.
Marked by changes in paving and perimeter kerbside garden beds, the Archway will reclaim pedestrian zones from the unused roadway and slow traffic while still allowing full vehicle access to George Street, only narrowing it to the width it is in The Rocks.
The Archway will provide a fabulous space for visitors to come up close to the Harbour Bridge, to connect with the history of a place of national significance, and to be linked to the heritage precinct of Dawes Point and on to the Cliff Top Walk and the Arts Precinct of Walsh Bay.