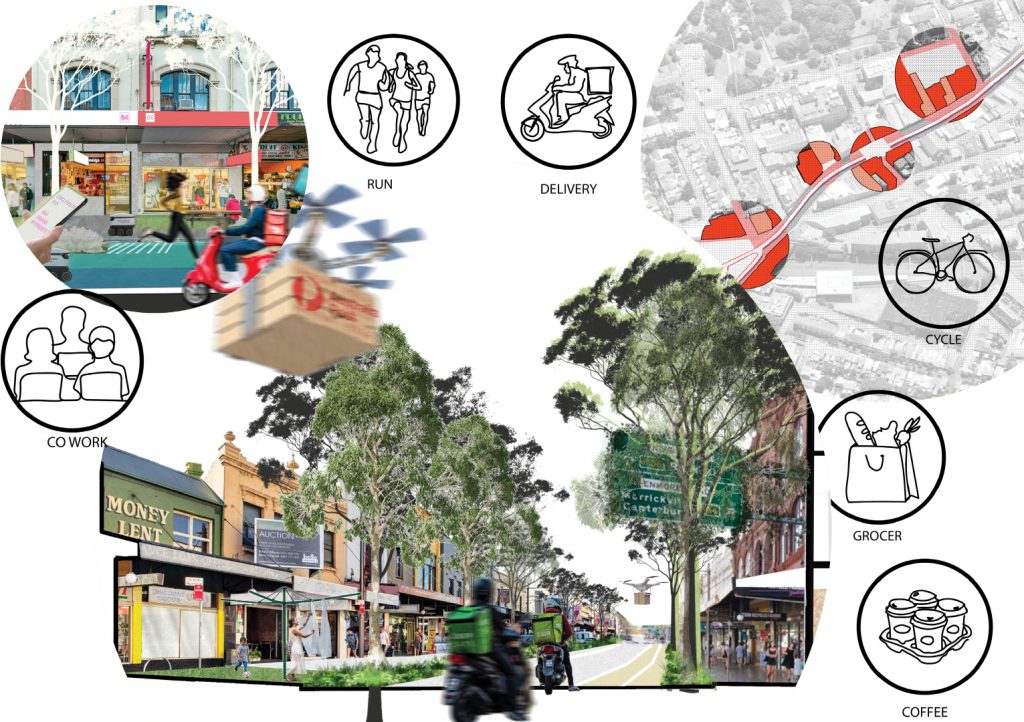 View Full screen
All Hail The New King
Brittany Johnston, Caitlin McCarthy, Liz Andersen
2020 has changed our living, working, and shopping experience as we know it. 
Bricks and mortar retail is on the decline and communities are looking inward towards local, more sustainable and efficient options. Both living and business models are rapidly evolving to accommodate shifting interests, with co-work spaces and delivery services fulfilling desired flexibility and convenience.
As the future of retail evolves, so must our urban fabric. Once dominated by street faced shops and destination retail, our streetscapes are soon to experience a dramatic reimagining.
King Street, the once a bustling and congested urban corridor, has been rezoned to embrace residential tenancy. The concept of a 10 min neighbourhood is the guiding framework for revitalising Newtown; with greengrocers, coffee, and all essential needs present within a short walking distance. Smaller, inefficient retail has given way for new homes while larger shops have become co-work spaces with shared facilities. The public domain and road carriage are transformed, given primarily over to green open space. Self-automated cars are restricted to our highways and key arterial roads. Along King Street, water sensitive urban design addresses the poor runoff and flooding issues. Delivery vehicles and pedestrians are prioritized with lanes for cyclists, runners, motorcycles, and small trucks. There are waiting bays for a swift and efficient delivery service, and landing pads for drones.
There are new playgrounds and parks in these generous verges, and plenty of room for concerts, gigs, BBQ's and burgers. Newtown is still Newtown, just greener