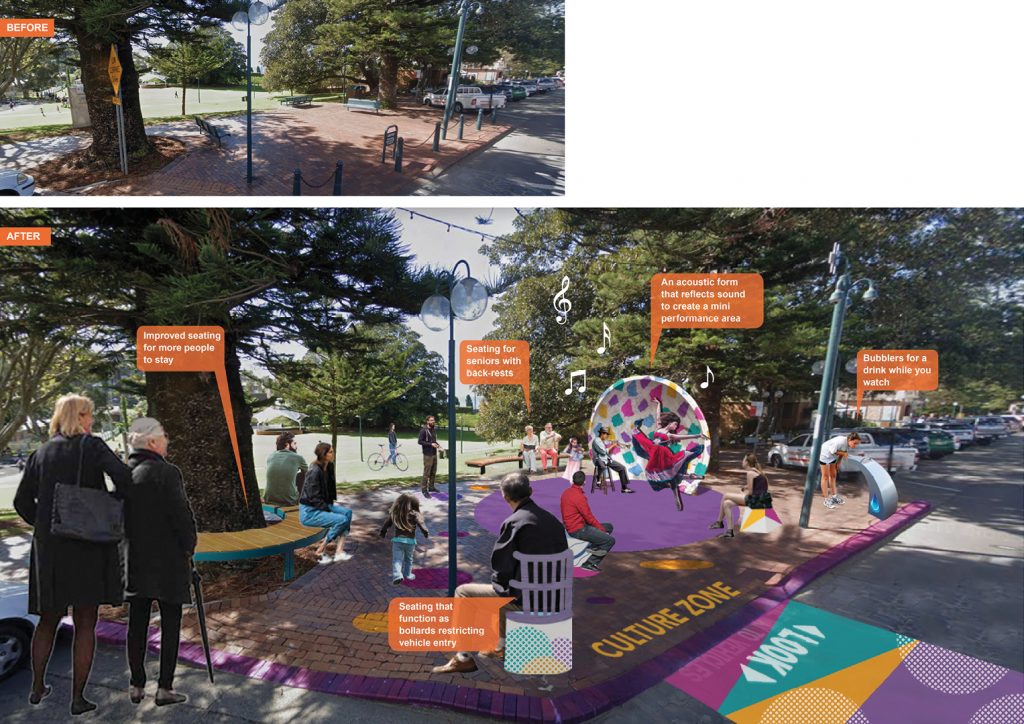 View Full screen
All access pass to culture
Abinaya Rajavelu, Sarah Reilly & Elise O'Ryan
Local centre case study: Bringing cultural facilities and experiences outside and accessible to all.
"Our idea is to transform transitional public spaces like streets into equitably accessible public cultural facilities. Bringing culture outdoors and giving it a stage, with great acoustics and comfortable viewing areas, allows people of all ages and abilities to enjoy it for free".
Global research tells us that participation in culture makes us happier, healthier and more connected. While cultural public spaces are normally buildings hosting indoor events, gathering indoors isn't possible right now, and we need to reconsider how we think about cultural facilities. The streets of our local centres are the public places where we all visit and incidentally interact, and provides the perfect location for experiencing culture. This idea improves the life of Sydney-siders by activating tired and transitional spaces in our local centres as public cultural facilities that provide a stage for cultural performance, and comfortable amenity for cultural viewing.
Our idea provides a great public space by responding to all the things people tell us they want in a great public space: social seating, shelter, bubblers, colour, and things to see and do – including creating cultural experiences together.
Our idea is transformational as it delivers a low-cost minimal intervention which challenges our thinking about "what is a cultural facility". It provides a solution to address the high demand for more cultural infrastructure across Sydney, without the need for millions of dollars. It changes our perception that culture is for some and not for others.