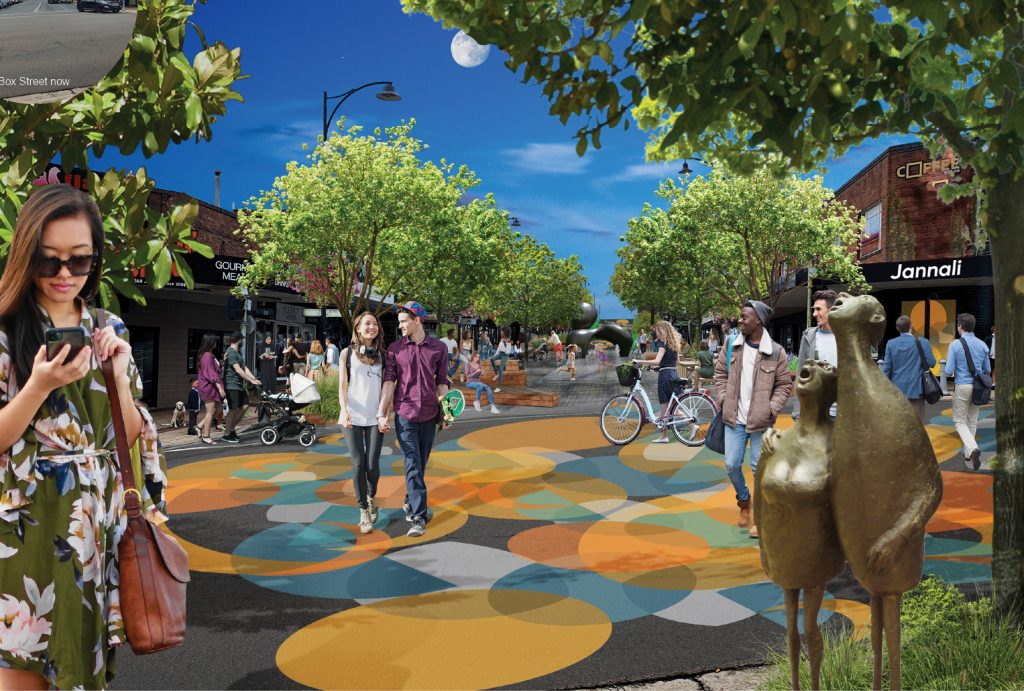 View Full screen
A New Moon brings the rebirth of Jannali
Stephanie Crossley, Lori Dean, Nicole Hutton
Jannali main street transforms into a vibrant people friendly public plaza where local businesses thrive.
Today, the local centre at Jannali extends along Box Road. The mix of café's and shops of this post-war settlement are lacklustre with around 20% of the retail frontages for lease. At the bottom of the road sits Jannali Station, an island surrounded by congestion as vehicles jostle and beep at drivers who stop to drop-off passengers or compete for parking.
Pushed to the edges, school children and commuters quickly walk down the street under the tired shop awnings. Diverting to grab their daily grind, the café is where the older residents hang out with their papers and a dog or two. Coffee in hand, they stop outside the chicken shop waiting for the Greenman before proceeding into the station.
A new moon rises over Jannali transforming Box Road into a plaza open for people. Children are playing in the square, darting between the spurts of water from the fountain. Older children are climbing and hanging from the arches which frame the place's famous moon. People stop for a moment to rest with their bags of shopping to observe the fun. Others are simply lounging under the dappled shade with a drink and bite to eat enjoying one another's company. Commuters slowly meander down to the station, pausing to peek inside the windows and glance across the displays of treats and treasures.
The colourful moon phases etched across the road draw returning residents and visitors from the station into Box Plaza. Greeted by the gawking couple, you cannot help but look up and observe the beautiful moon that shines over the people who belong to Jannali.