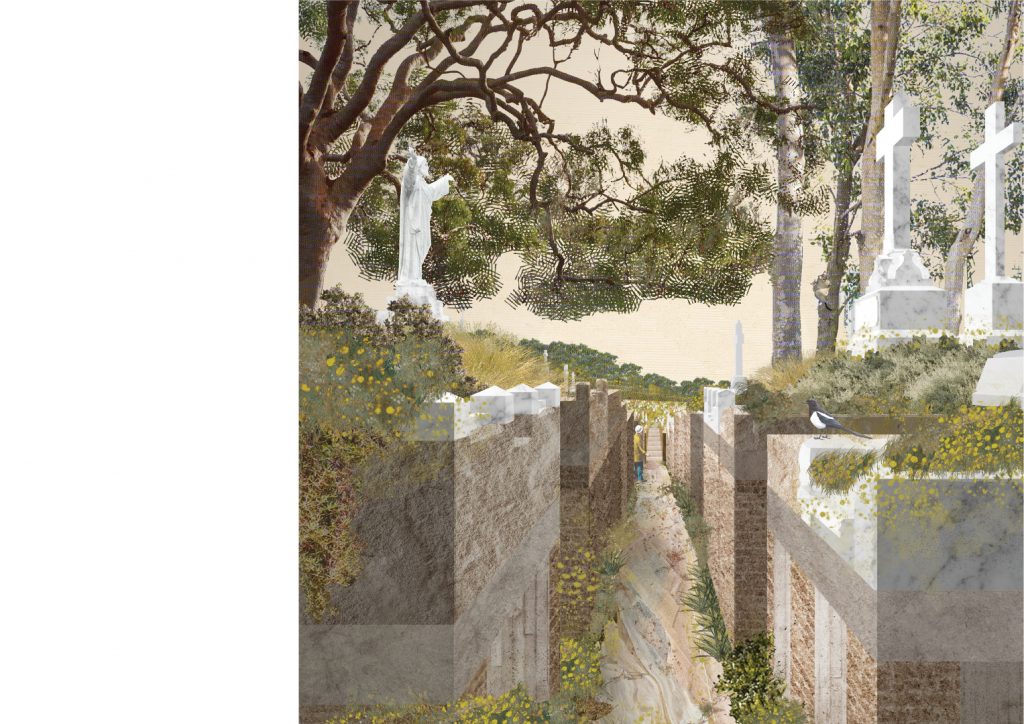 View Full screen
A Grounded Approach
Calum York, Jed Finnane
A public domain characterised by our collective mortality
Sydney's cemeteries are some of our oldest and untouched public spaces. Mandated by NSW law to be maintained in-perpetuity, the impossibility of this task was revealed when, in 2016, the cliffs at Waverley Cemetery collapsed. Approaching capacity and slipping into the ocean at a rate of 20mm per year, the question remains: how can we move past this inherently pessimistic strategy of preservation towards a more meaningful model of renewal?
A Grounded Approach is a project of radical regrading. We propose to transform the ground into a new public domain by excavating the site's peripheral paths and empty allotments, and use that soil to cover over a central area, leaving only the beautiful white marble headstones on display. By exposing the graves' foundations, and reinforcing them as a massing of our collective past, the original coastal heath ecologies can begin to take root, sheltering the new ground from the surrounding suburb. The approach through this excavated terrain becomes a proverbial "crossing of the Styx," navigating a space of stillness within native vegetation.
The new ground opens up more space to the community for ritual, therapy and education. Instead of marking thousands of individual acts upon the land, the headstones are unified by the terrain and recontextualised as markers of growth. Waverley Cemetery becomes a place transformed by a changing landscape, layered with more meaningful ecological and social programs; a public domain characterised by a more nuanced understanding of our collective mortality.